Vanitha Magazine 1 - 15 October 2014 Issue Published

Vanitha malayalam magazine 1 to 15 October 2014 1st edition featuring Swetha Menon on cover is now available. Even though Vanitha magazine 1 – 15 October 2014 Volume 1, /Part 1 free online reading is not practical, you can read the digital version by paying money. The highlight of 1- 15 October 2014 issue of Vanitha are interview with actress Swetha Menon, 'Craft Making', 'Beauty Spots', 'Youth Parambu', 'Healthy Kitchen' and 'Sex Life'.


Vanitha is well - liked among the reading community in Kerala as a life & style magazine. Coming from the most trusted publishing house Vanitha is appreciated for its novel approach in content delivery and innovative features. This magazine is exclusively designed to cater the need of people of all generations.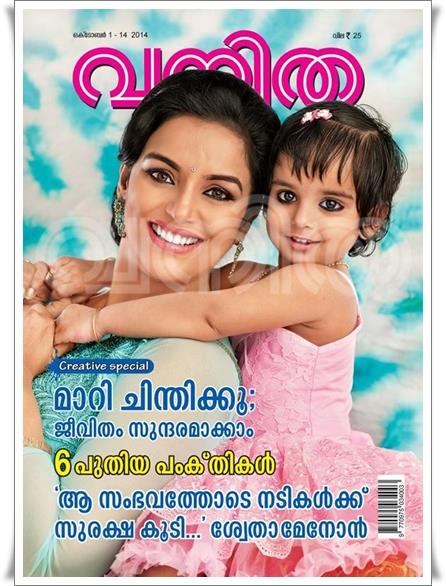 The 1 to 15 October 2014 edition of Vanitha featuring Swetha Menon on cover page have been published. The highlights of the first volume of September 2014 issue of Vanitha are the interviews with actress Swetha Menon, special articles on 'Craft Making', 'Beauty Spots', 'Youth Parambu', 'Healthy Kitchen' and 'Sex Life'.

The current edition of the magazine is richly packed with interesting contents which would purely give a reading delight to its readers. In an exclusive chat for Vanitha, actress Swetha Menon speaks about her acting career and family life. Readers would get an opportunity to know more about Swetha Menon and her daughter Sabainna. Swetha who is one of the leading actress in malayalam film industry engages with the readers through her words.

An article 'How to be Creative' zooms into an interesting story to bring liveliness in your daily works. Being creative would rather deliver a forward leap for teachers, businessmen and all other professions. After identifying the real interest, one can make your thoughts into revenue. A special article on 'Craft Making' can guide the readers to engage in craft making which could bring happiness and revenue during free time. 'Beauty Spots' tells all about the latest trends in beauty and related topics.

Tips are stories to make a home happier is another article featured in the current issue. The importance of taking and ways to keep energetic is well described. Taking with parents, family members and friends can give lot of energy and even make the person fit and happy. 'Youth Parambu' is a separate section which is being prepared to share about youngsters and their interests. The article gives refreshment to the readers for its rich content. 'Healthy Kitchen' delivers various ways to bring back health through Kitchen tips.

Dr. B Padmakumar gives tips to keep the kitchen neat and clean. A systematic mode of approach can give better result in the daily works in the kitchen. 'Sex & Life' handed by Dr. Rajana Kothari is one of the well read section which gives ways to develop better sex life. The author has tried to focus on giving positive messages and meditations thoughts.

With a a circulation of more than 7 lakhs copies, Vanitha also covers articles on topics like kids care, Style & Trendy, Astrology, Travel, and Health. This magazine is highly treasured and read by celebrities. Printed in multi coloured pages, this issue of 'Vanitha' is highly recommended to people who wish to stay young.