Vanitha Magazine 1 - 15 November 2014 Issue Published

Vanitha malayalam magazine 1 to 15 November 2014 1st edition featuring Jayasurya on cover is now available. Even though Vanitha magazine 1 – 15 November 2014 Volume 1, /Part 1 free online reading is not practical, you can read the digital version by paying money. The highlight of 1 - 15 November 2014 issue of Vanitha is exclusive interview with actor Jayasurya wife Saritha, son Adwaith, daughter Veda, Filmmaker Ranji Panikar, 'Fashion Trends' and 'Sex Life'.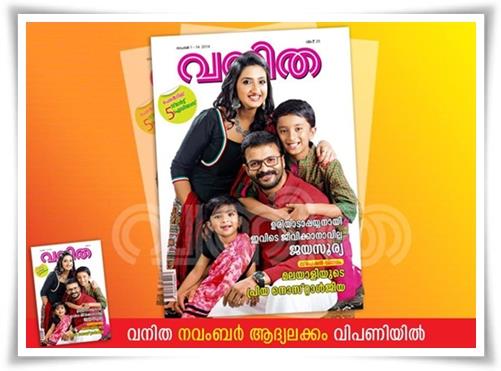 Vanitha, being the most popular women's magazine is well celebrated for its innovative approach in content delivery and inventive features. Coming from the most trusted publishing house Malayala Manorama, Vanitha is exclusively designed to cater the need of all generations.

The 1st edition of Vanitha featuring actor Jayasurya and Family on cover page is currently available at newsstands. The highlights of the second volume of 1 – 15 November 2014 issue of Vanitha are the exclusive chat with actor Jayasurya, Muthumani, Filmmaker Ranji Panickar, 'Fashion Trends' and 'Party Time Recipes'.

The latest edition of Vanitha is ornately packed with interesting contents for the malayali community providing a pure reading delight. In an exclusive chat, actor Jayasurya shares views on his acting career and family life. Readers would get a rare opportunity to get the inside story about Jayasurya and his family which consists of wife Saritha, son Adwaith and daughter Veda.

The young actor who has created his own space in the film industry rightly engages with the readers through words. In the feature 'Nostalgia', celebrities K P S C Lalitha, Vineeth, K S Chitra, Sarath Vayalar, Samyuktha Varma, Vijay Yesudas, Jayaraj and Sarath talk on their favourite songs.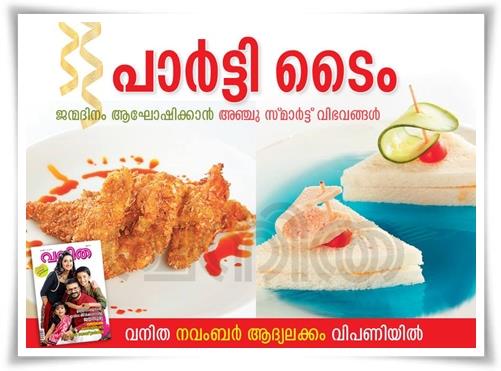 Regular columns like 'Chiri Veedukal', 'Beauty Spot' are also featured in the current issue of Vanitha. In the fashion section, trends in chidren's wears are displayed. In the 'Healthy Kitchen', Dr B Padmakumar gives healthy tips to lead a comfortable dine.

'Sex & Life' handed by Dr. Rajana Kothari is one of the well read section provides tips to develop better sex life. The author has tried to focus on family relationship in this issue. 5 smart recipes which could be prepared during Birthday parties have been given with prime importance. An exclusive talk with Valayar Award winner K R Meera will make the readers to know in detail about the writer.

With a circulation of more than 7 lakhs copies, Vanitha also covers articles on various topics including kids care, Style & Trendy, Astrology, Travel, and Health. This magazine is highly treasured and read by celebrities and other renounced people. Printed in multi coloured pages, the November 1st edition of 'Vanitha' is highly recommended to readers.