Malayala Manorama Thozhilveedhi 11th October 2014 issue now in stands

Malayala Manorama Thozhilveedhi 11th October 2014 issue (6th October) is now in stands. To read the latest issue of Malayala Manorama Thozhilveedhi dated 6 October 2014, buy a copy from your local book vendor. Thozhilveedhi from M M Group is one of the popular employment weekly which features updated news on arising opportunities in public and private sectors.


Malayala Manorama Thozhilveedhi, one of the most celebrated employment newspaper has published its 11th October issue. The latest edition of 'Thozhilveedhi' is highly packed with rising opportunities and job prospects in various fields. In the 11th October issue of Thozhilveedhi, vacancies in Heavy Vehicle Factory, Coast Guard, Defense Ministry, Gun Carriage Factory, Sabarimala, Devasam Board, Teaching Assistant in Agricultural University, Film and Television Institute, Madhya Pradesh High Court, RGPV, SAIL are reported.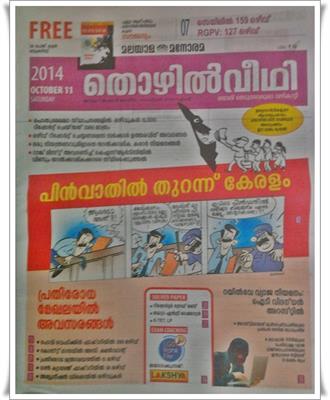 While going through the pages, readers can find new job opportunities like 399 in Heavy Vehicle Factory, Assistant Guards in Coast Guard, 51 in Defense Ministry, 58 in Gun Carriage Factory, 127 vacancies in RGPV, 88 stenographers in Madhya Pradesh High Court, 58 in Film & Television Institute, 159 in SAIL, 51 in Defense Ministry have found place in the current edition of Thozhilveedhi. Fresh opening various Universities are also given in the latest issue of 'Thozhilveedhi'.

IBPS PO exam orientation prepared by Triumphant Institute of Management Education and Last Grade crash coaching by Laskhya Academy will boost the preparation value of the candidates. Solved Paper of Reporter Grade II and Data Entry Operator would help the candidates to check their progress in the exam. K- TET & LP sample exam paper is much informative for those who are undergoing last time preparation.

LDC rank lists of various districts are likely to get published by 15th October 2014. Regular columns like Open Forum, PSC for Beginners, Syllabus of various upcoming Kerala PSC exams and Hall Ticket details will add more value worth for guiding the PSC aspirants. Queries put forward by the readers are also cleared by PSC officers. The current issue of Thozhilveedhi will add extra mileage in the upcoming exams.

'Competitive Winner', a free booklet which is known for its providing the latest General Knowledge in capsule format will be a pure companion for young job seekers. More than an employment magazine, 'Thozhilveedhi' provides an exclusive platform for youngsters and enlightened them to build an impressive future.