Malayala Manorama Thozhilveedhi 18th October 2014 issue now in stands

Malayala Manorama Thozhilveedhi 18th October 2014 issue (13th October) is now in stands. To read the latest issue of Malayala Manorama Thozhilveedhi dated 18 October 2014, buy a copy from your local book vendor. Thozhilveedhi from M M Group is one of the popular employment weekly which features updated news on arising opportunities in public and private sectors.


Malayala Manorama Thozhilveedhi, one of the most popular employment newspaper in malayalam has published its 18th October issue. The new edition of 'Thozhilveedhi' is richly packed with rising opportunities and job prospects in various fields including the government and private sectors. In the 18h October issue of Thozhilveedhi, vacancies in Railway, Intelligence Bureau, New Assurance, VSSC, Sainik School, Botanical Guard, CUSAT, Army Public School, SAIL, Lakhmi Vilas Bank are reported.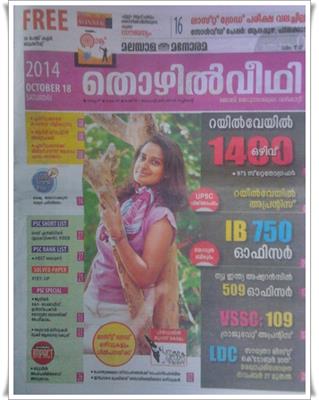 While going through the pages, readers can find latest job opportunities like 1400 vacancies in Railway, Apprentices in Railway, 750 Officers in IB, 509 officers in New Assurance, 109 in VSSC, 22 opening in IIMK, Guest Lecturers in Calicut University, Senior Resident in ESIC, 2 vacancies in CUSAT for Technicians, 81 Management Trainees in SAIL and Probationary Officer in Lakshmi Vilas Bank have found place in the current edition of Thozhilveedhi.

Fresh opening in various Universities are also given with much importance in the latest issue of 'Thozhilveedhi'. PSC short list of Sub Engineer (Electrical) KSEB, PSC Rank List HSST Botony, Solved Paper KTET –UP are published with prominence. Last Grade crash coaching by Laskhya Academy will provide extra energy for the candidates who are currently undergoing the last stage preparations. In the PSC Special section, the newspaper has given an article on qualification change in Junior Co – Operative Inspector exam.

Kerala PSC LDC probability lists of various districts would be published by 30th October 2014. Regular columns like Open Forum, PSC for Beginners, Syllabus of various upcoming Kerala PSC exams and Hall Ticket details would worth more and guide the PSC aspirants to strive forward with their dream. Queries put forward by the readers are answered by PSC officers. The current issue of Thozhilveedhi will add a superfluous effect in the upcoming exams.

As usual, 'Competitive Winner', a free booklet which provides the latest General Knowledge in capsule format will be a pure companion for the young job seekers. More than an employment magazine, 'Thozhilveedhi' is known for providing an exclusive platform for youngsters to build an impressive career.