Malayala Manorama Thozhilveedhi 25th October 2014 issue now in stands

Malayala Manorama Thozhilveedhi 25th October 2014 issue (20th October) is now in stands. To read the latest issue of Malayala Manorama Thozhilveedhi dated 25 October 2014, buy a copy from your nearest book vendor or Manorama agent. Thozhilveedhi from M M Group is one of the popular employment weekly which features updated news on arising opportunities in public and private sectors.


Being one of the most popular employment newspaper, Malayala Manorama Thozhilveedhi is read by youngsters with lot of enthusiasm. The 25th October 2014 issue of this news weekly is richly packed with rising prospects and job opportunites in different fields including the government and private sectors. The current edition of Thozhilveedhi comes with vacancies in New India Assurance, SAIL, ESIC, Subash Institute of Technology, NIT, ITBP, Steal Authority and Northern Railway.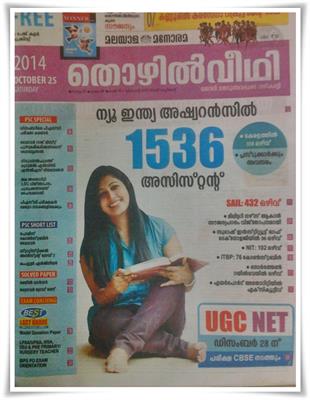 While going through the pages, readers can find newest job opportunities like 1536 in New India Assurance, 432 in SAIL, 96 opening in Subash Institute of Technology, 102 in NIT, 76 Constables in ITBP, 35 in ESIC, 432 in Steel Authority and 21 jobs in Northern Railway have found place in the current edition of Thozhilveedhi.

Fresh opening in various Universities inside and outside of Kerala are also given with much prominence in the latest issue of 'Thozhilveedhi'. PSC short lists of Police Constable Driver, Statistical Assistant Grade II, Computer Engineer, Solved Papers of Railway Warder and Driver Grade II are published. Last Grade crash coaching and Model question papers of HSA/DEd and IBPS PO exam would guide the students who are undergoing last time preparations. In the PSC Special section, Kerala PSC December exam calendar, articles on Driver Rank List, Kerala PSC Online tests in Metros would give an insight to the readers.

Regular columns like Open Forum, PSC for Beginners, Syllabus of various upcoming Kerala PSC exams and Hall Ticket details would guide the PSC aspirants to move forward to achieve their dream. Queries put forward by the readers are well answered by PSC officers. The current issue of Thozhilveedhi will add a superfluous result in the upcoming exams.

'Competitive Winner', a free booklet which provides the latest General Knowledge in capsule format is also accompanied with the newspaper. More than an employment magazine, 'Thozhilveedhi' has provided an exclusive platform for youngsters to build an inspiring profession.