Malayala Manorama Thozhilveedhi 1st November 2014 issue now in stands

Malayala Manorama Thozhilveedhi 1st November 2014 issue (27th October) is now in stands. To read the latest issue of Malayala Manorama Thozhilveedhi dated 1 November 2014, buy a copy from your nearest book vendor or Manorama agent. Thozhilveedhi from M M Group is one of the popular employment weekly which features updated news on arising opportunities in public and private sectors.


Thozhilveedhi is one of the most popular employment newspaper published by the Malayala Manorama. The 1st November 2014 issue of this news weekly is well rich packed with rising opening and job prospects in various fields including the government and private sectors. The current edition of Thozhilveedhi comes with vacancies in Cooperative Bank, Coal Field, SAIL, IIT, Railway, HPCL and Karnataka Bank.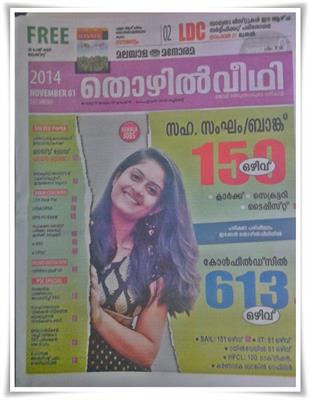 While going through the pages, readers can find newest job opportunities like 150 job opportunities in Cooperative Bank, 613 in coal field, 151 in SAIL, 81 in IIT, 61 in Railway, 86 in Mahanadhi Coal Field, 527 in Central Coal Field, 100 in HPCL and officer in Karnataka Bank. Rising vacancies in Calicut University, C-DAC, NIT, Rubber Cooperative Limited, CWRDM, Kochi Metro, Kochi Shipyard, 44 in NCESS and 47 jobs in SLIET are also reported.

Solved papers of Last Grade and Security Assistant Executive in Intelligence Bureau are given in the latest edition of Thozhilveedhi for reference. Crash coaching for various exams like Last Grade Servant, (LGS), LPSA/UPSA, IBPS, Cooperative Service Exam Board Clerk, SSC and UPSC would guide the candidates who are currently under preparation for the exam. Previous question paper of Railway Group D exam will be more helpful for applicants.

In the PSC special section, news about the Postal Assistant Result, Railway & SSC exam are found. Regular columns like Open Forum, PSC for Beginners, Syllabus of various upcoming Kerala PSC exams and Hall Ticket details would guide the PSC aspirants to move forward to achieve their dream. Queries put forward by the readers are well answered by PSC officers. The current issue of Thozhilveedhi will add extra result in the upcoming exams.

'Competitive Winner', the free booklet which is being accompanied along with 'Thozhilveedhi' provides the newest General Knowledge in capsule format is also accompanied with the newspaper. Being an employment magazine, 'Thozhilveedhi' has put the foundation to youngsters who are aspiring for a good career.