Ningalkkum Aakaam Kodeeshwaran Season 3 Questions from 30th October 2014

Asianet Ningalkkum Akam Kodeeswaran Season 3 question No.1, question No.2, question No.3, question No.4, question No.5, question No.6 and question No.7 will be asked by the host Suresh Gopi starting from October 30, 2014. If you wish to participate in Asianet 'Ningalikkum Akaam Kodeeshwaran' Season 3 game show hosted by Suresh Gopi, answer all the questions asked by the host.


The stage is all set for the biggest game show Ningalkkum Akam Kodeeswaran, the most popular TV game show in Asianet. 'Ningalkkum Akam Kodeeswaran Season 3' is back with interesting changes. Prior to the new season, the host actor Suresh Gopi will be asking questions to find the new participants.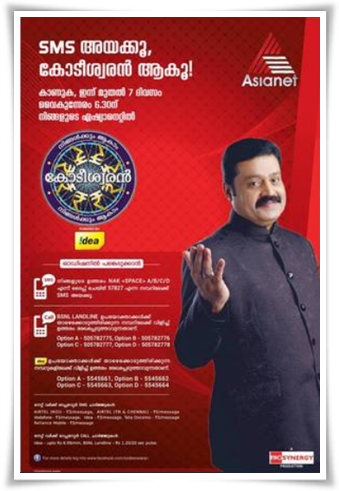 Adopted from the world famous game show 'You can be a millionaire', NAK has already successfully completed its 2 editions. Produced by BIG Synergy Media Limited, the show will be launched during the last quarter of 2014. Participation is strictly based on audition and fixed rules. Eligible registrants will be called for an audition to be conducted in 4 zones like Calicut, Cochin, Trivandrum and rest of India.


Ningalkkum Aakaam Kodeeshwaran SMS Format

Questions will be aired at 6:30 PM every day, staring from 30th October 2014. Those who wish to be a part of the audition of the game show can answer the questions asked during the 30th October – 5th November 2014. Answers can be sending in the given format.

NAKA/B/C/D should be send to 57827. For BSNL Landline users, the format is as follows.
Option A – 505782775, Option B – 505782776, Option C – 505782777, Option D – 505782778

Idea users must have to send their answers in the following format.
Option A – 5545661 Option B – 5545662, Option C – 5545663, Option D – 5545664

Eligible candidates must undergo an audition test which will be the stepping stone to make up into the final list of participants. Various rounds like 'Audience Poll', 'Phone a Friend' and 'Fifty-Fifty (50/50)' would be arranged as per the rules. Shyla C.K. from Idukki, made history by being the first person to win 50 lakhs during the 1st Season of the show. Sanooja Rajan was declared as the first Crorepati of the Season 2. Suraj Venjaramoodu, Kavya Madhavan, Samvrutha Sunil, K. S. Chithra, Shwetha Menon, Madhu were few among the Celebrities who were a part of two season.