Malayala Manorama Thozhilveedhi 8th November 2014 issue now in stands

Malayala Manorama Thozhilveedhi 8th November 2014 issue (3rd November) is now in stands. To read the latest issue of Malayala Manorama Thozhilveedhi dated 8 November 2014, buy a copy from your nearest book vendor or Manorama agent. Thozhilveedhi from M M Group is one of the popular employment weekly which features updated news on arising opportunities in public and private sectors.


Thozhilveedhi is considered to be one of the most popular employment newspaper in Kerala. The 8th November 2014 issue of this news weekly is richly packed with growing opportunities and job prospects in various fields including the government and private sectors. The current edition of Thozhilveedhi comes with vacancies in Railway, United Insurance, Coal Field, Air India and ESI.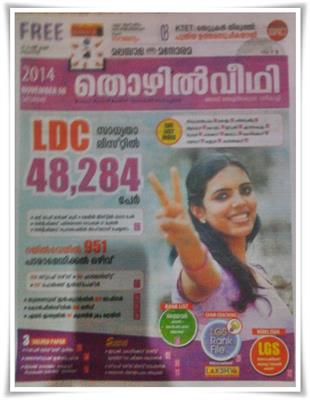 While going through the pages, readers can find latest job opening like 951 in Paramedical Railway, 323 Officers in United Insurance, 305 in Coal Field, 161 Cabin Crew Trainees in Air India and Dental Surgeon in ESI. Rising vacancies in Agriculture University, Travancore Titanium, IIMK, M G University and jobs in Devasom Board are also reported.

Solved papers of Shoffer Grade II, Live Stock Inspector, Branch Manager/Secretary, Co Operative Board are given with prominence in the latest edition of Thozhilveedhi for reference. Rank List Driver Company/Corporation/ Board of will help the candidates to check their rank status. Exam Coaching like LGS Rank File and model exam for LGS prepared by Bright Zone Kattappana would boost the preparation of the job aspirants. The LDC probability list of 14 districts which include 48,284 candidates getting into the shortlist has been published.

In the PSC special section, news about the Last Grade Exam centres, report on the rank list of Staff Nurse would guide the readers. Regular columns like Open Forum, PSC for Beginners, Syllabus of various upcoming Kerala PSC exams and Hall Ticket details will provide basic support for the PSC aspirants to move forward to achieve their dream. Questions put forward by the readers are answered by PSC officers.

'Competitive Winner', the free booklet provides the most recent General Knowledge in capsule format is also accompanied with the newspaper. 'Thozhilveedhi' has put the foundation to youngsters who are aspiring for a good career during the past years.