Malayala Manorama Thozhilveedhi 15th November 2014 issue now in stands

Malayala Manorama Thozhilveedhi 15th November 2014 issue (10 November) is now in stands. To read the latest issue of Malayala Manorama Thozhilveedhi dated 15 November 2014, buy a copy from your nearest book vendor or Manorama agent. Thozhilveedhi from M M Group is one of the popular employment weekly which features updated news on arising opportunities in public and private sectors.


Thozhilveedhi is well known among the youth as an employment newspaper which has shaped their career. The 15th November 2014 issue of Thozhilveedhi is well rich packed with rising job prospects in various fields including the government and private sectors. The current edition of Thozhilveedhi comes with vacancies in various defense sectors, AIIMS, High Court, Spices Board, Delhi Postal Department, Central Service, NSPCL, Railway and IOCL.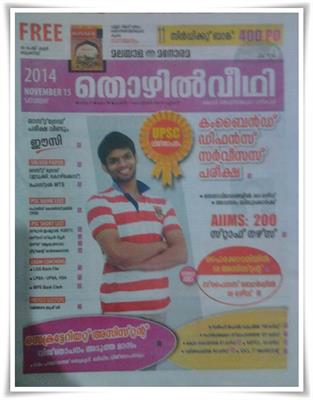 While going through the pages, readers can find most recent job opportunities like 464 opening in Army, 200 Staff Nurses in AIIMS, 58 Assistant in High Court, 45 in Spices Board, 740 in Delhi Postal Department, 151 in Public Service, 81 in Central Service, 64 in NSPCL, 54 in Railway and 77 opening Assistant in IOCL are also reported.

Solved papers of Last Grade Idukki and Kozhikode, Postal MTS are given in the new edition of Thozhilveedhi for reference. Crash coaching for various exams like LPSA/UPSA, HSA and IBPS Bank Clerk would a proper guidance for the candidates who are currently preparing for the exam. Previous question paper of Railway Group D will boost the groundwork of the applicants.

PSC Rank List Police Constable (IRB), PSC Short Lists of Store Issuvar, KSTRC, Nursery School Teacher, Nurse (Ayurveda) and Treatment Organizer are also published in Thozhilveedhi. Exam Coaching LGS Rank File, LPSA/UPSA,HSA and IBPS Bank Clerk would guide the job aspirants.

In the PSC special section, news about Secretariat Assistant Notification is given with prominence. Regular columns like Open Forum, PSC for Beginners, Syllabus of various upcoming Kerala PSC exams and Hall Ticket details are also helpful. Queries put forward by the readers are answered by PSC officers.

'Competitive Winner', the free booklet is also accompanied along with this issue of 'Thozhilveedhi' which provides the most recent General Knowledge in capsule format. Readers can make the best use of the current issue of 'Thozhilveedhi' to develop a good career.