Malayala Manorama Thozhilveedhi 22nd November 2014 issue now in stands

Malayala Manorama Thozhilveedhi 22nd November 2014 issue (17 November) is now in stands. To read the latest issue of Malayala Manorama Thozhilveedhi dated 22 November 2014, buy a copy from your nearest book vendor or Manorama agent. Thozhilveedhi from M M Group is one of the popular employment weekly which features updated news on arising opportunities in public and private sectors.


Thozilveedhi, a publication from the house of Malayala Manorama is one of the most popular employment newspaper in the state. The 22nd November 2014 issue of this news weekly comes with rising job prospects in both government and private sectors.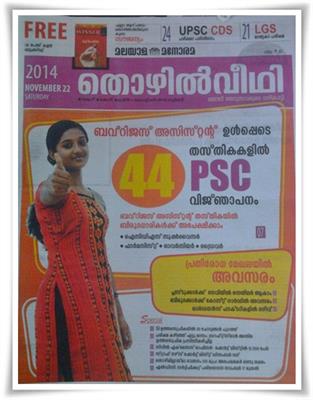 The current edition of Thozhilveedhi is richly packed with jobs in Navy, Defense, SSC, HAL, Repco Bank, Ordinance Factory, KVASU, NIT, CUFOS, MMTV and ILBS. Fresh appointments in NSS Colleges and various Universities including Kerala and Calicut are also reported.

While going through the pages, readers can find latest job opening like 97 opening in Ordinance Factory, 19 in KVASU, 253 in ILBS, 63 in SSC, 49 in HAL and 115 jobs in Repco Bank can be found. 33 vacancies in NSS Colleges, Finance Manager post in MMTV, Sailer in Navy, Coast Guard Assistant Commandant are given with prominence. The latest PSC notification of 44 posts is included in the new edition of Thozhilveedhi.

LGS rank file prepared by Lakhsya Academy, Last Grade Crash Coaching by Success Academy, UPSC Combined Defence Services Examination and LP/UP, Nursury Teacher & HSA exam guidance provided by Florence Academy would enlighten the candidates who are currently under going final preparations.

In the PSC special section, news about Civil Excise Officer Short List, publication of Staff Nurse Short List (December 15) and details regarding LDC Certificate Verification (17th November) is much helpful for the candidates. Regular columns like Open Forum, PSC for Beginners, Syllabus of various upcoming Kerala PSC exams and Hall Ticket details will provide basic support for the PSC aspirants. Questions asked by the readers are answered by PSC officers.

'Competitive Winner', the free booklet provides the most latest General Knowledge in capsule format is also accompanied with the newspaper. 'Thozhilveedhi' has proved to be the foundation block for the who are aspiring for a good career.