Tintumon Enna Kodeeshwaran: Santhosh Pandit ready to rock

Searching for Tintumon Enn kodeeshwaran malayalam movie actress name? Find details about Tintumon Enn kodeeshwaran malayalam movie directed by Santhosh Pandit. The internet sensation actor Santhosh has recently released the song of his upcoming movie. The song has already crossed 5 million viewers. His movie Kalidasan Kavithayezhuthukayanu is ready for release.


Internet sensation Santhosh Pandit is gearing up to entertain the audience with his acts and dance steps. With his new movie Kalidasan Kavithayezhuthukayanu ready for release, the actor has released a song of his next project 'Tintumon Enna Kodeeshewaran'. The song titled 'Panam Varum Pokum' recently was released on Youtube. Santhosh has followed his own style in making the video. His debut venture Krishnanum Radhyam crossed million likes.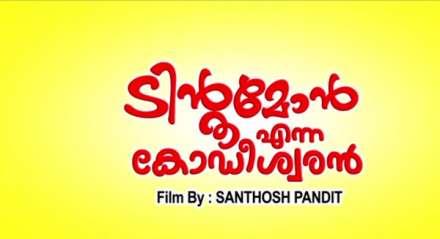 Santhosh who is much known for marketing himself, his movies and videos is looking forward to bring back his golden days through his upcoming ventures. Credited to be as an actor, director, script-writer, music director, lyric writer, editor and playback singer, Santhosh could divert the attention of the media and moviegoers towards him in a short period.

Even though Santhosh became an overnight sensation through his maiden movie Krishnanum Radhyam, he couldn't keep the pace in the later ventures. His next movie 'Superstar Santhosh Pandit' failed in the box office. The fate of 'Minimolude Achan' released in 2014 was also the same.

'Kalidasan Kavitha Ezhuthukayanu', scripted and directed by Santhosh Pandit has completed the post production works and would reach theatres very soon. The movie revolves centers on a typical character named 'Kalidasan' who lives in a village named 'Kalikavu'. Having born in a family with financial constraints, Kalidasan couldn't complete his education in a suitable way.

The movie tells the up and down happened in the life of Kalidasan. Apart from Santhosh, the cast include Lakshmi, Jayasree, Shammer, Sreedevi, Prasanth, Rajesh and Reshma. He has also announced a movie titled 'Neelima Enna Penkutty'. Apart from acting, Santhosh is active in chat shows and inaugurations. Even it is very hard to grab the time of the sensible audience, Santhosh has proved to be an exception through his activities and marketing strategies. Can Santhosh recreate history through his upcoming ventures? Let us wait and see.