Malayala Manorama Thozhilveedhi 6 December 2014 issue now in stands

Malayala Manorama Thozhilveedhi 6 December 2014 issue (1 December) is now in stands. To read the latest issue of Malayala Manorama Thozhilveedhi dated 1 December. Thozhilveedhi from M M Group is one of the popular employment weekly which features updated news on arising opportunities in public and private sectors.


Thozilveedhi is one of the leading employment newspaper read by job seekers in Kerala. The 6th December 2014 issue of this news weekly is richly packed with rising job prospects in both government and private sectors.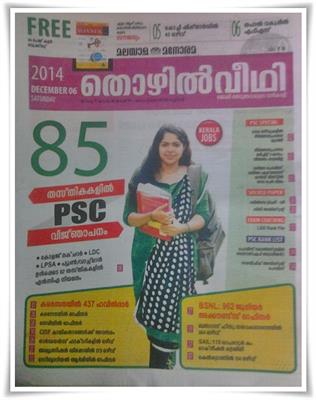 The latest edition of Thozhilveedhi is comes with job prospects in Cochin Shipyard, Postal Department, KUFOS Academy, CREST, FISAT, KITCO, Keltron, SAIL and Ordinance Factory. Fresh appointments in Sree Chitra, M G and Calicut University and various Universities including MG, Calicut and Sankrit are also reported.

While going through the pages, readers can find latest job opening like 40 in Cochin Shypiyard, 40 in Postal Department, 1 in KUFOS, Executive in Marine and Metals, 154 in Keltron, Professor in Sanskrit University, 437 Hawildars in Army, 962 Junior Accountants Officer, 110 Operator Cum trainee in SAIL, 273 in Ammunition Depot, Officer in Territorial Army, 384 in Banarus Hindu University, 154 in Keltrons and 91 in Ordinance Factory. Details regarding the latest 85 PSC notifications are given with prominence

LGS rank file prepared by Lakhsya Academy would enlighten the candidates who are currently undergoing final preparations. In the PSC special section, news about 6000 vacancies, Short list news of 8000 Women Police and Women Excise Guard are also provided for information.
Solved Papers of Railway Group D and Cine Assistant are published in this issue. PSC Rank Lists of Police Constable Driver (A P Battalion) and Scientific Assistant Police are published in this issue of Thozhilveedi.

Readers can get needful information from the regular columns like Open Forum, PSC for Beginners, Syllabus of various upcoming Kerala PSC exams and Hall Ticket details. Questions put forward by the readers are answered by PSC officers. As usual, the free booklet 'Competitive Winner', enriched with latest General Knowledge in capsule format will provide adequate information to the readers. For the last few years, Thozhilveedhi' has proved to be the foundation block for PSC aspirants and those seeking a better job.