Malayala Manorama Thozhilveedhi 3 January 2015 issue now in stands

Malayala Manorama Thozhilveedhi 3 January 2014 issue (29 December) is now in stands. Highlight of this issue are 76 Kerala PSC Notifications 2015, PSCSecretariat Assistant exam 2015 in May, BDO exam 2015 in June, Muncipal Secretary exam 215 in July and various vacancies like Recrutiment in AIIMS 2015, NDA Admission 2015 are also featured in this issue.


Thozilveedhi, which comes from the publishing house of Malayalam Manorama is one of the popular employment newspaper which is read by job seekers in Kerala. The 3rd January 2015 issue of Thozhilveedhi is thickly packed with new job prospects in both government and private sectors.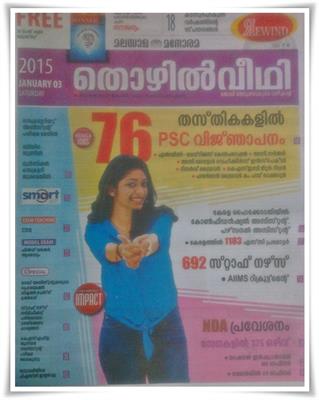 The latest edition of Thozhilveedhi is comes with jobs in various sectors including job prospects in Kerala High Court, AIIMS, Army, National Insurance, NABARD, Biodiversity Board, LPSC, TRGRI, Instrumentation Limited and rising vacancies inside and outside Kerala are also reported. Detailed news reports and preparation for the forthcoming Secretariat Assistant exam, BDO exam and Muncipal Secreatary exam are given with prominence.

While going through the pages, readers can find latest job opening like Confidential and Personal Assistant in Kerala High Court, 1183 NC Promoters in Kerala, 692 Staff Nurses, 375 in Army, 362 officers in National Insurance, 128 officers in NABARD, 18 in Biodiversity Board, 15 in LPSC, 19 in TRGRI and 13 Trainee in Instrumentation Limited with details are published in the latest edition of Thozhilveedhi. Recruitments in AIIMS,

NDA Admission 2015, news regarding the Secretariat Assistant exam to be conducted in May, BDO exam 2015 in June, Muncipal Secreatary exam in July 2015 are also found in the new issue of Thozhilveedhi. Reader can find Model exam from forthcoming exams like Field Worker and Health while coaching for CDS exam are also available. In the PSC special section, news regarding the Lab Assistants probation, Things to know about Staff Nurse Certificate verification are much useful for the readers. PSC interviews in January 2015 are published in this issue.

LGS rank file prepared by Lakhsya Academy, IBPS PO exam orientation by TIME, LP/HSA,DEd & Pre Primary Nursery Teacher exam direction provided by Florence Academy would be more helpful for the candidates who are currently undergoing final preparations. Regular columns including Open Forum, PSC for Beginners, Syllabus of various upcoming Kerala PSC exams and Hall Ticket details are much beneficial for the PSC aspirants. Questions asked by the readers are answered by PSC officers. The free booklet 'Competitive Winner' in capsule format is much informative for the job seekers.