Actress Aranmula Ponnamma Dies

Actress Aranmula Ponnamma Dies, she was 96. She was hospitalized for more than a weak her death was confirmed by 5.30 evening


Actress Aranmula Ponnamma Dies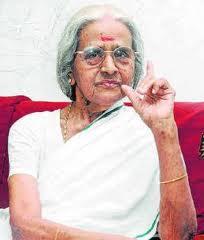 Aranumala ponnamma passed away, Aranumala ponnamma was Malayalam cine actress who acted in more than 500 films. She was hospitalised for more than weak, after she got a born fracture. She was in critical state for few days; Doctors confirmed her death on about 5.30 pm on 21-02-11. She was 96 years old

Aranumala ponnamma has acted with almost every generation of Malayalam cinema, she began her carries with the first generation of Malayalam cinema, she acted with all of the super stars of that time, Prem Nazir, Sathyan , Madhu , Ummer etc...Bulk of her works with the early generation. She also shared screen space with the generations then on, she done her last movie in 1997 in Suresh Gopi's Janathipathyam.

By the beginning of 90's she limited her presence in Malayalam cinema, she acted her last four films with Suresh Gopi, who married her Grand Daughter. She was mother figure to the whole the industry, she kept close relationship with the prominent figures in politics and Art.

She began her acting carrier though Plays, she acted opposite to Augustine Joseph, in a play titled Bhagyalakshmi. I t was whrn she was 29 she got in too the movie industry, Aranumala ponnamma made her acting Debut in there movie Sasidharan(1950). She acted in more than 500 movie along with super stars of the time. She was a good Karnatic Music

Aranumala ponnamma is the only lady artist to be facilitated with J.C. Daniel Award for Lifetime Achievement in 2006. She receive second best actress award in national and state level for the movie Kathapurushan(1995), directed by the Master crafts man Adoor Gopalakrishnan.