Athirapilly waterfall - The most beautiful tourist centre in kerala

Athirippilly waterfall is situated in Thrissur district in Kerala. This is one of the most beautiful waterfalls in India. The rich wildlife and forest areas in Athirappilly and Vazhachal are the main attractions. The tourists can also enjoy other nearby places in Thrissur district like Boating in Peechi Dam, a visit to Kerala Kalamandalam etc. The best season for watching Athirappilly waterfall is in June to September months. Due to these reason Kerala is known as "God's own country".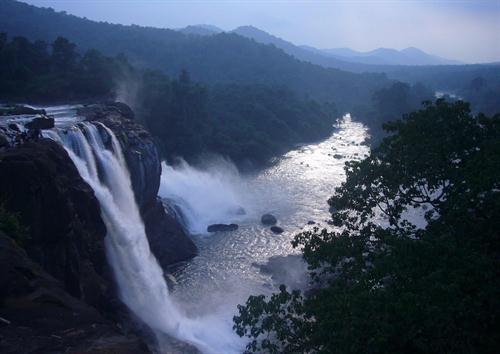 Kerala is known as "God's own country" as it blessed with very beautiful places. The tourists are always attracted to Kerala mainly because of its unique climate. There are so many tourist places in Kerala. Out of which the most preferable place is Athirappilly which is located in Thrissur district. The very beautiful water fall at Athirappilly will a treat to visitors. The Athirappilly waterfall is located in sholayar forest area combined with fresh green atmosphere which originates in the upper reaches of the Western Ghats. The beauty of Athirappilly cannot be explained through words, it should be watched at least onetime in life. Athirppilly is most beautiful in rainy season that is in June to October months. Anyway the water fall will be there at all months with good atmosphere. There are so many places in Athirappilly to enjoy the scenic beauty of earth. Here there are so many film shooting and photo locations. The Athirappilly water fall is joining to river "Chalakkudi Puzha" after a great fall from a height of 80 feet. This place will be a good choice for the people who like to share time with nature.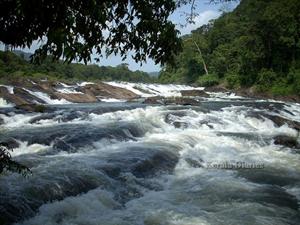 A rout map to Athirappilly

The ministry of tourism of Kerala provided many facilities to attract the foreigners. Good accommodation facilities available at various resorts in Athirappily. All the visitors must take care that plastic covers are strictly prohibited here. The transportation facilities are available to reach Athirappilly and Vazhachal. Athirappilly waterfall is located 60 Km from Thrissur town and 78 Km from Cochin (Kochi).



This area is full of vegetation and wildlife. Another attraction of Athirappilli falls is that, another beautiful waterfall Vazhachal is located 5km from Athirappilly. It is also a good place for the tourists. The Athirappilly and Vazhachal waterfalls are existed throughout the year. But the peak time for attraction will be in June, July and august. There are many water flows here through rocks and small rivers. Hence there will be some chances to play in water. But, this should be carried out up to certain limits. The foreigners can reach easily to Athirappily from Cochin airport. Various KSRTC services are there to Athirapilly. Nowadays, there so many tour packages are available to Athirappilly and many others nearby places.


Some details of resorts at Athirappilly


Rain Forest resort

It is a four star resort located at Athirappilly having 10 rooms. This provides various modern facilities like swimming pool, A/C rooms etc.
P IV/93 A, Kannamkuzhy PO | Athirappilly, Chalakudy, Thrissur 680721, India

Bethania Resports
Bethania resort has 26 rooms and out of which 16 are A/C rooms.
Mobile number: 9747012225
info@bethaniaresorts.com

Athirappilly waterfall Video
Other nearby attraction for tourists


Peechi Dam
It is one of the greatest and beautiful dams in Kerala. It is also located in hilly and forest area of Thrissur district. This dam is located on Manali River. The main attraction of the peechi is baoting facilty in dam for long time. Through this journey we can enjoy the forest areas and wildlife. The wildlife sanctuary was established in 1958. The best time for visit the peechi dam is in June and July months.

Kerala Kalamandalam

Thrissur district is known as the cultural center of Kerala state. In order to understand various cultural forms of Kerala, Kerala Kalamandalam will be the suitable place. This is located in cheruthuruthy in thrissur district. Kalamandalam iis actually a training centre for many traditional arts forms of Kerala. Visiting kerala kalamandalam will be a good effort to understand the traditions of this state. The kalamandalam was established by Malayalam writer Vallathol Narayana Menon in the year 1930.

Snehatheeram beach
The Thrissur district has long costal area. Hence there are so many beautiful beaches like Snehatheeram, Manthalamkunnu, and Nattika etc. In which the Snehatheeram beach is most suitable for tourists from outside. There are so many facilities are available in this beach like resorts, hotels with accommodation facilities. Beach festivals are conducting everyone year in the month December.

Amusement parks
The tourists to Athirappilly had a great opportunity to enjoy the days in Amusement parks located near to Athirapilly. Dream World and Silver Storm are some best amusement parks in Thrissur district. All are water theme parks with various modern rides and games. At the same time, these amusement parks provide strong safety measurements to its visitors. The amusement parks will be opened at 9 AM and closed at 7PM.