Ozhimuri malayalam movie review

Ozhimuri malayalam movie review is given here. Ozhimuri is a Malayalam movie directed by Madhupal. This film is written by Jeyamohan, who wrote the superhit films ' Naan Kadavul' and ' Angaditheru ' in Tamil. The main cast includes Lal, Asif Ali, Bhavana and swetha menon. The article below tells the review of the film Ozhimuri.


After winning the best new director from his film 'Thalappavu', Madhupal is back again with another beautiful movie ' Ozhimuri'. This film is based on the book ' Uravidangal' by B.Jayamohan about the matrilineal system prevailed in olden Travancore. In matrilineal system women enjoys the most freedom in a family. They had more power than men. All the property from ancestors were handled by women. This film exposes the problems in the transition period of matrilineal to patrilineal.In Malayalam and Tamil Ozhimuri means divorce record.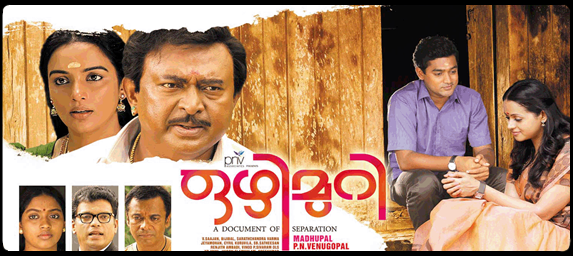 Story of Ozhimuri

In olden days the word Ozhimuri was mainly used in courts , which means divorce. The film starts with a scene where 55 years old Meenakshiyamma (Mallika) gives petition for ozhimuri from 71 years Thanupillai (Lal) meeting with a lawyer Bala (Bhavana). She then meets Sarath (Asif Ali), their only son to talk about a reconciliation. Then the film shows a flash back where Matrilinear system existed. At that time nair women ruled over men. Kaali Pillai (Swetha Menon)is one of them who took control over husband. Later she tells her husband to leave her and continues with her life. Her authority and command makes her son Thanu Pillai to decide that he will not allow any women to destroy his life. Thanu Pillai then marries Meenakshi. But his attitude toward her was different. She is beaten up by him, abused and maltreated by him who seeks revenge for his father's disappearance. But their son, Sarath can't understand his father. He began to hate him and thus bringing his mother for a divorce. But Bala tries to understand him and tries him to understand his father. Later Sarath realizes why his father became like that , tries to accept him and love him. Here Meenakshi is the mode of a perfect wife who sees her husband equal to god. The film ends with a happy ending.


Review of Ozhimuri

The script of this film Ozhimuri will become one of the best scripts of this year. The script was written by Jeyamohan who wrote " naan kadavul ' and ' Angaditheru ' in Tamil. With this film he is putting his first step in Malayalam film field. Ozhimuri is totally the excellence of 3 actors - Lal, Swetha Menon, and Mallika. Acting of Lal is excellent here. He has done both the roles , as Sivan Pillai Chattambi and Thanupillai, superb. Once again Malayalees are seeing a fantastic performance from Swetha Menon, which will be the best one in her career till now. Bhavana as Bala had also done her part very well. She is a talkative lawyer who helps Sarath to see things in correct view. This film tells the story in a native language, at the time of splitting Travancore in to Kerala and Tamilnadu. This film shows us the difficult life of the olden days.

Jayamohan had also written the title song of this film which shows the true natural beauty of the Travancore. The director had shown an excellent care in shooting the change of matrilinear to patrilinear and that in a perfect single shot. After all Ozhimuri shows that Madhupal is an excellent director who can make a different change in Malayalam film industry with different theme films.