Mathrubhumi News Channel Logo released, launch date 1st January 2013

Mathrubhumi News Channel logo was released at Guruvayoor marking its launch slated for the date 1st January 2013. This News Channel will join Asianet News, Indiavision, Manorama News, People TV and Reporter TV which are currently going on air making people get in touch with the happening around the world. Adding one more to it, the Mathrubhumi News Channel will make a leap forward propagating a new media culture in the state.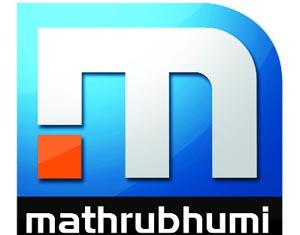 Just remembering a phase of life when I made a few kilometers of walk to watch the cricket match along with a huge gathering seated inside a small room. Now, just with a remote click hundreds of channels flash before our eyes. From a single channel to a couple dozen malayalam channels, the viewers are enjoying at their best.

Unlike the print media, the visual media too have a keep role to play gifting a new channel culture to the people. The channels have given a plenty opportunities to those interested to work in front and behind the camera. Kerala is blessed with the existence of a number of news channels which directly shape the opinion of the common people.

The existing malayalam channels which delivers 24 hours news and current affairs are Asianet News, Indiavision, Manorama News, People TV and Reporter TV. Adding one more to it will be Mathrubhumi which will soon mark its entry before the malayali viewers residing around the globe.

The logo of the channel was unveiled at Guruvayoor while the channel is expected to go on air on 1st January 2013. Embedded with the latest technology, a new studio had been set up at Vanchiyoor in Thiruvanathaparum.

The channel comprises of the leading media personalities who had proved their mettle on screen while representing various other channels in the beginning. Lead by Unni Balakrishnan, the channel boost of having the presence of Venu Balakrishnan, Geroge Pulikkan, Marshal V Sebastian and fee others.

Ambitious to provide a new platform, the channel would go live focusing on current events being telecast before the viewers with truth and sincerity. The channel boosts of having a team of professionals who are skilled to take it to the next level. While Mathrubhumi is gearing to make an entry, it is also known that Madyamam too is on the final stage preparation to launch their channel, Media One TV.

Already the foundation stone had been laid and the channel is having a full-fledged studio set at Kozhikode. So after Manorama, it would be the 2nd channel from the house of a print media which do have decades of experience. A 24 hours entertainment channel from Mathrubhumi known as Kappa TV is also making a launch very soon.