Surya TV Sreekandan Nair Show– Promo video goes viral

Watch Sreekandan Nair Show on Surya TV every Sunday telecast at 9 PM. Already the promo video featuring Rose Chandran has started striking the chords. Starting on 6th January 2013, the talk show with Sreekandan Nair has host will be an eye candy for television viewers who are much passionate towards the anchoring of this outstanding personality. After hosting Nammal Thammil on Asianet and Samadooram on Mazhavil Manorama, Sreekandan Nair would keep the family viewers intact with his show.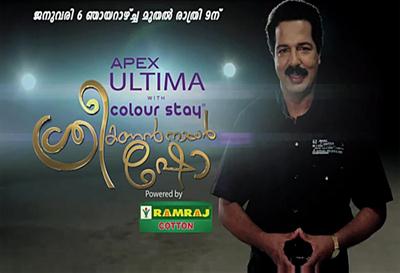 Sreekandan Nair is well known television celebrity who is known for his witty presentation during talk shows. After making his presence in Asianet Nammal Thammil and Samadooram on Mazhavil Manorama, R. Sreekandan Nair is back in business with another talk show titled 'Sreekandan Nair Show' to be telecast on Surya TV. The first episode of this talk show will be aired on 6th January 2013 to be followed on every Sunday at 9.00 P.M.

Surya TV being a prime entertainment channel in Kerala has taken initiatives to open voice against in human acts in the country. The channel also had become a unique platform to show reality bites.

Adding one more to it, the channel has roped the best anchor currently available to host their premier show 'Sreekandan Nair Show'. The crew behind the show has unveiled a promotional video giving a light view about the show. The video featuring Rose Chandran and others has gone viral in social media sites with its majestic making and witty dialogues.

Being a part of Asianet and Mazhavil Manorama, the man with extreme guts has showcased his talent to carry out a show keeping a healthy relationship with the invitees and the viewers. The presence of Sreekandan Nair will give a boost to the entire channel looking forward to compete with other channels. Earlier there were reports that Sreekandan Nair had over taken Janapriya channel. The channel which is currently known as 'Flowers' will take a little time to start functioning, during the while Sreekandan Nair would host the show in Surya TV.

During the while do enjoy the promo video of Sreekandan Nair Show featuring Rose Chandran and Sreekandan Nair.