Dhyan Sreenivasan hero in brother Vineeth's new movie

Dhyan Sreenivasan son of malayalam actor Sreenivasan is making his acting debut through his brother Vineeth's next movie. After donning the role of assistant director for M Mohan's 916, Dhyan is getting in as an actor following his father and brother. Vineeth Sreenivasan who had shown his mettle as a director would truly be excited to launch his brother Dyan through his 3rd movie.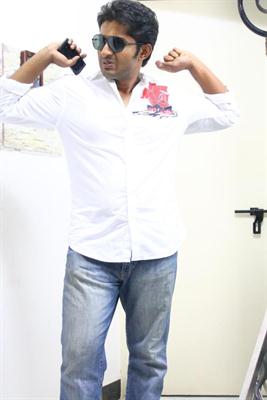 Vineeth Sreenivasan will be introducing a fresh face as hero in his third venture for which the ground works are going on with ease. So who is the spanking new actor who is lucky to be a part of Vineeth's new project? For more excitement, it would be none other than 'Dhyan Sreenivasan', his younger brother for whom Vineeth knit the theme. Coming from a family with majestic actors, Dhyan is the youngest son of Sreenivasan, the extraordinary genius with multitalented capabilities.

It would be dream come true for young Dhyan who had stood behind the camera as assistant director for M Mohanan's 916. Aiming high to channelize his own space as an actor and director, Dhyan found himself working great with M Mohanan, his uncle. So Vineeth who had been the stepping stone for young actors like Nivin Pauly, Aju Varghese and Bhagat Manuel is giving the best platform for his brother Dhyan through his upcoming movie.

After proving his skill as a singer, lyrist and actor, Vineeth found himself comfortable with direction which later proved to be true. His directorial debut Malarvadi Arts Club was encouraged by the young fans while the movie retuned back the money which was spend on it. 'Thattathin Marayathu' made with a budget of 3 Crores gained 16 Crores making it a blockbuster. Even though Vineeth's 3rd movie focuses on a romantic theme, it would have a suspense element which would put the movie tagged as a thriller.

Vineeth who took a small gap from the world of entertainment as he got married to his ladylove is now back on track. As the screenplay of the movie is now at its final stage, we can expect that Dhyan would make his presence in majestic style. So now the 100 million dollar would be whether we could see all the three in a single frame.