Fahad Fasil - Andrea Jeremiah off screen love affair now public

Fahadh Fasil love affair with Andrea Jermiah has now become public. Will Fahadh Fasil – Andrea Jermiah's love reach for engagement and marriage? Young malayalam actor Fahadh Fasil has revealed his love with Andrea Jermiah while giving an interview for a prominent women magazine. Fahad and Andrea worked together for Annayum Rasoolum directed by Rajeev Ravi.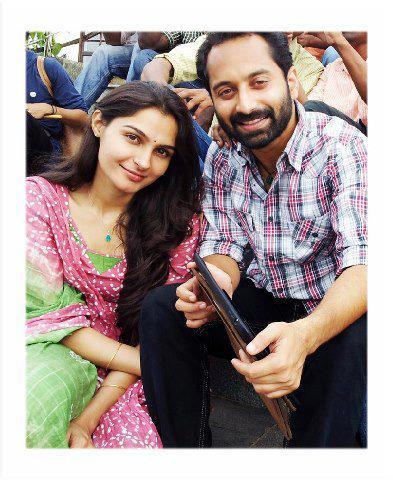 Yet another interesting off screen love story is being budding up in the film industry. Even though actors like Jayaram, Biju Menon, Dileep, Prithviraj and Indrajith traveled through the way of love before getting married, the love affair between Fahadh Fasil and Andrea Jermiah would be very special for various reasons. Fahadh can be credited for being the first malayalam actor to fall in love with an actress from another film industry.

Fahad, who stepped in as the new generation malayalam hero recently revealed about his love and added that his lady love is not a malayali, but do belong to another state. But the speculation was that the Fahad's lover might be his any of his classmate. But leaving all rumours, Fahadh himself has opened his mind speaking out his love with Andrea.

Fahad and Andrea worked together for Rajeev Ravi's Annayum Rasoolum as onscreen lovers, had too much time to share their thoughts which developed into true love. Andrea's education, character, acting skill and humour sense made Fahad to reveal his love while during the dubbing session of the movie in Chennai. Keeping half mind in the initial days, Andrea later responded to Fahad's love interest. Recently, Andrea visited the sets of 'Amen' to see Fahad.

Fahad, son of director Fazil started his acting debut in 2002 with Kaiyethum Doorath which was not the cup of team for the viewers. But the year 2009 saw the comeback of Fahad through Kerala Café. Chappa Kurish was the real turning for the actor who was later seen in 22 Female Kottayam, Diomond Necklace, Friday, Annayum Rasoolum and Natholi Cheriya Meenalla. The actor would be having a wonderful year with a handful of movies standing in line to get released.

Andrea Jermiah stepped into the silver screen in 2005 with 'Kanda Naal Muthal'. Known as an actress and singer, Andrea was recently seen in a powerful role with Kamalahasan's Vishwaroopam. Her voice for Kannun Kannum and Google Google in Anyan and Thuppaki respectively grabbed the attention of movie lovers.

So now the love of Fahad and Andrea would be taken up by media which can be the next talk of the town.