Mohanlal's onam releases 2013 'Memory Card', an action thriller

Mohanlal's onam release 2013 malayalam movie Memory Card is an action thriller. This movie which is to reach theatres during the onam season is creamed with all flavours of a commercial entertainer. His 2012 Onam release 'Run Baby Run' was a box office success. It was coupled with thrilling moments moved away the conventional equations of film making in malayalam.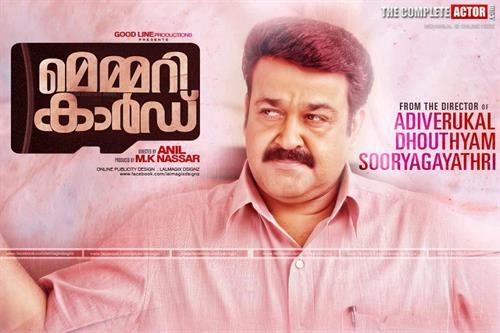 Even though the Onam season is 4 months away, malayalam film makers are on the way planning the schedules for the shoot. With 5 movies released during the last season, this year we can expect the same as per the knowledge about its making process. Mohanlal who gave 'Run Baby Run', a movie coupled with thrilling moments as an Onam gift in 2012 is gearing up for yet another surprise this year too.

Other than this big budget movie, few projects helmed by youngsters would reach theatres in September. But the real focus will be Mohanlal starrer 'Memory Card', directed by P Anil. Touted as an ultimate action thriller, this movie will be the return of P Anil behind the camera who is much known for his previous flicks Douthyam and Suryagayathri. 'Memory Card' to be shot exclusively in Hyderabad is about the tale of a retired military communications expert to be donned by Mohanlal.

Other than the super star, two more big names from the industry would be playing important roles. It is known that the makers had approached Tamil actor Prakash Raj to be a part of the project. The script of this action thriller is handled by Gireesh who had worked with Aniyan Bava Chettan Bava and Meleparambil Aanveedu. He has tried a different approach with the scripting of 'Memory Card' which would have true elements to thrill.

The story of the movie is about the incidents which happened in Hyderabad in six days time. Mohanlal's character, a police officer and another person come together as a result of several events. This high profile investigation thriller creamed with all essence to entertain the audience is expected to be must watch movie. Few other big guns of the malayalam film industry would be joining the project. The expectations of the movie lovers have already reached the peak just from its initial announcement. So get ready for the biggest entertainer of the year.