Thiruvananthapuram (Trivandrum) tourist guide - Best tourist areas, attractions and history

Thiruvananthapuram (Trivandrum) tourist guide - Best tourist areas, attractions and history are given here. Tourism, attractions and history about Trivandrum is revealed in this article for all those who love to visit the most exciting places in India. Explore the best tourism areas of Trivandrum that you really wish to go.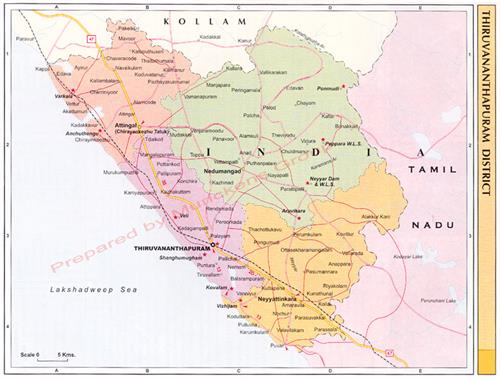 Trivandrum, the capital of Kerala is a beautiful seaside city which is famous for its beautiful beaches and is considered to be one of the finest and cleanest places in India. To the east of the district lies the mountain sahya and is enclosed by Arabian Sea to its west. It covers about 2192 sq.km with around 32,34,707 of population rate in which 10,91,661 are living in cities and 21,42,695 are villagers. Thus for every 1000 males there exist 1060 females. 89.3% people here are literate. The district has 78km long seashores with Neyyar, Karamana, Vamanapuram, as its important rivers. Vamanapuram is the longest river in the district with 88km. its 989 sq.km is covered completely with forest that is, 45.12% of its entire area.


History

Trivandrum is a city on seven hillocks having great histories. The word Trivandrum is derived from "Thiru Anantha Puram" which means "the abode of the sacred serpent Anantha on which Lord Vishnu reclines.


Till 10th century AD, Ay Dynasty was having the political power. Then came the Cholas and soon perishes off. Then the arrival of the English East India Company in 1684 establishing factory in Anchuthengu. From there they gradually implanted their power. Now Thiruvithamcore was renamed as Travencore. A Mugal sirdar who was an adventurer invaded Travancore and threatened Umayamma Rani. Kerala Varma, a prince of Kottayam defeated sirdar. But Kerala Varma was assassinated in AD.1696 inside his palace. 1729 AD to 1758 AD was considered as the reign of Maharaja Marthanda Varma, who was considered as the Father of modern Travancore. He ran into a safe place in Travancore due to the fear of attack from agents of the trustees and then gave them a counter attack.

He was one who changed the capital which was formerly Padmanabhapuram to Trivandrum for his benefit and had renovated the Padmanabha Swamy Temple to be better. A treaty was then signed to protect Travancore from Mysore by the East India Company. The people were not able to resist the corruption taking place by the king's ministers. This misleading was completely whipped out by Velu Thampi and Karyakar of Thalakkulam. Then arrives Maharaja Swathi Thirunal (1829 – 1847 AD) who did many benefits for Trivandrum. English schools and charity hospitals were established. Quality of education was further increased. Highly standard arts college was established in the reign of Maharaja Ayilyam Thirunal.

In 1938, Dr. Pattabhi sitaramaiah held a political conference of congress and made a great impact in the city. Many more institutions were introduced by different Maharaja's and played a great role in the development of the city. In 1990, Government decided to start writing its name as Thiruvananthapuram.
Popular Tourist Places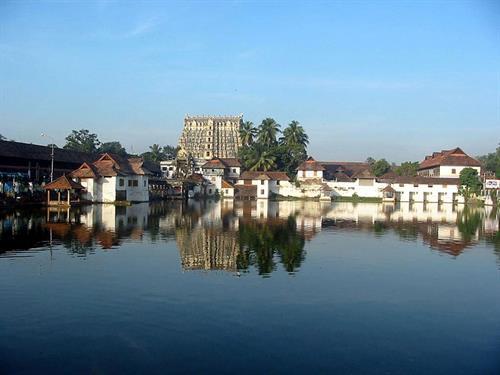 Sree Padmanabha Swamy Temple

This Temple is ancient and historic which worships Lord Vishnu. It is a specimen having seven storied Gopuram and 386 pillars of the corridors which are craved with granites. The Travancore Maharajas ruled as devotees in this temple. This is now the richest temple in the whole world with countless valuable treasures.


Anjengo

It is a historical island which is lying between the Anjengo Lake and Arabian Sea. The English East India Company build a fort in 1765 against foreign domination is known as the Anjengo Fort. It is now under the Archaeological department. Two ancient churches and cemeteries are also built up for burying British and the Dutch people. Mahakavi Kumaran Asan was born in Kaikara, a village nearby and these places were very much abundant with coconut trees.


Shanmugham Beach

This beach is near the Airport and is in the heart of the Trivandrum. It is famous due to its frequent film shoots. A lot of local people comes here and enjoys the scene. This is the perfect site for taking photographs and its slightly red sand gives it a rosy appearance. High facilities are provided as 'Indoor Recreation Club' and 'Children's Traffic Training Park' for the attraction of tourists.


Chacha Nehru Childrens Museum

This museum is established after the name of 'Pandit Jawaharlal Nehru' in 1980, which is remembered for his sincere love towards children. Nearly 2000 dolls, stamps, masks and paintings are displayed here. There are mini aquariums with wide range of colorful fishes.


Kovalam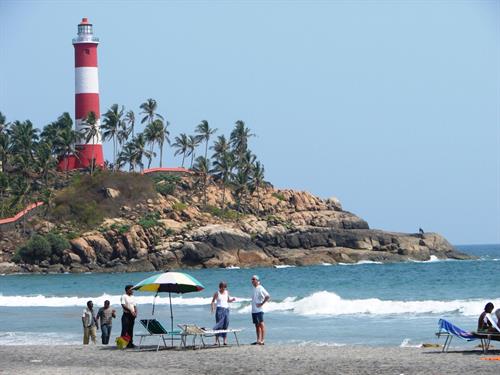 The Kovalam beach resort which lies 13km south of Trivandrum is one of the best beaches in the world. The name Kovalam means 'Seashore of the king'. For conferences, conducted tours and conventions, Kovalam is the perfect place to go. High hill rocks with a natural bay of calm waters for sunbath along with mind blowing side scene is apt for recreation. There are Ayurvedic treatments, massage facilities, health clubs, swimming pools and yoga for the visitors. The beach is so beautiful that it will not stop visitors coming again and again.


Padmanabha Puram Palace

This is an ancient palace located near an old fort which is 53km from Trivandrum and 3 miles from the small town. This is a magnificent wooden palace of 16th century located is Kanyakumari and its reservoir and gardens make it a great tourist spot. An ancient Bhagavathy Temple on the rock top makes it a place for pilgrimage. The palace has windows made of mica, music under mahogany, many carvings and royal chairs, 17th and 18th century murals and many more. Though it is situated in Kanyakumari of Tamil Nadu, it is under Kerala Government administration.


Neyyar Dam and Wildlife Sanctury

Neyyar Dam was built in 1958 and is located 32km from Trivandrum near Western Ghats. In addition of being an irrigation project, its reservoir provides excellent boating facilities. It also provides the visitors to enjoy some panoramic scenes, rare medicinal herbs and wildlife with dense vegetation. Neyyar wildlife sanctuary near this dam is enriched with a bunch of animals like sloth bear, tiger, elephant, wild boar, snakes, wild cats, crocodile, and many more. Visitors are advised to carry a binocular in hand to spot this wildlife from a particular elevation. The sanctuary stretching from Neyyatinkara to Mundanthurai Tiger Reserve in Tamil Nadu provides large area for the perfect existence of wildlife. The site is free of irritations and peaceful for tourism.


Vikram Sarabhai Space Centre

VSSC which is 10km from the city includes the famous Thumba Rocket launching station on account of Aryabhatta, three satellites of India and also the Apple and Bhaskara. The center is famous for its intense and active developments in the fields of aeronautics, composites, avionics etc. with highly talented people who works hard for its achievements.


Peppara Wildlife Sanctuary

The Sanctuary is 50km to north from Trivandrum with wide range of fauna and birds that attract more wildlife enthusiasts with dense forest for over 53km. the park is combined with Kottoor reserve and Palode reserve having three major forest belts. The Peppara Dam near Karamana River adds more colour to the wildlife sanctuary. Tourists are advised to visit the place and enjoy having a get together by morning with a great site of Karamana River.

There are many other places in Trivandrum like Varkala, Vizhinjam, Neyyattinkara, Aruvipuram, Attingal, Kilimanoor, Aruvikkara, etc. which are also frequently visited by the tourists. Trivandrum is thus one of the best places in Kerala for recreation and tourism.