Suresh Gopi upcoming new malayalam movies 2013 list – Latest projects with release date

Suresh Gopi upcoming new malayalam movies 2013 list with new projects are updated here. If you wish to check the latest malayalam movies of Suresh Gopi in 2013 go through this article to get the full list and details. Here is the updated information about the latest movies of Suresh Gopi in 2013.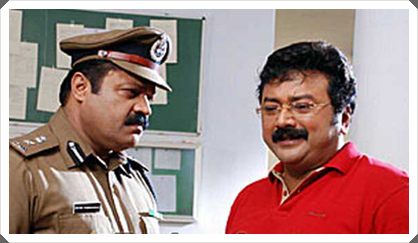 Suresh Gopi who had rose to the position of super star with his unique style of acting and dialogue delivery is gearing up to make his screen presence in 2013 with a bang. The actor who had taken a break from acting due to his tight schedule anchoring Ningalkkum Aakam Kodesshwaran in Asianet is back on track with a couple of projects. During the time he had acted in Shankar's big budget tamil movie in 'I' as a doctor which will have Vikaram and Amy Jackson in lead. His last outing in malayalam was The King and The Commissioner.

Suresh Gopi will be a part of Joshiy's upcoming project 'Salaam Kashmir' which has Jayaram and Miya donning prominent characters.


Salaam Kashmir

Salaam Kashmir directed by Joshiy will have Suresh Gopi and Jayaram in lead. Then onscreen chemistry between the two actors had already been visible in their previous ventures Paithirkam Sibi Malayil's 'Summer in Bethlehem' and Joshiy's 'Twenty 20',. Suresh Gopi dons the character role of Tommy Eapen Devassy in this action thriller which has completed the first schedule of its shooting. Earlier the movie was titled as Kashmir.
Scripted by Seethunath, Salaam Kashmir is produced by Maha Subair under Varnachithra banner. The camera works are handled by Manoj Pillai while the music is done by M.Jaya Chandran. Another attraction of this movie would be the duet song which has been sung by Jayaram and Swetha Menon. The release date of the movie is not yet confirmed.


Glamour Raja

Even though there is no much information to confirm about the project, it is reported that Suresh Gopi would do a movie directed by Prasanth Mambully. According to the initial reports, Kannada actress Sanjjanaa is casted as the heroine which would start shooting in June or July with locations in London and Kochi. Titled 'Glamour Raja', this would be the latest venture of Parsanth who has another project in pipeline 'Love Story' with Maqbool Salmaan in lead. Glamour Raja is will be a power packed movie flavoured with all commercial elements to keep the audience intact.