Jayasurya Upcoming New Malayalam Movies in 2013- Complete List

Get the complete list of Jayasurya's new upcoming Malayalam movies in this article. Jayasurya's upcoming Malayalam movies are 'D Company', 'Thanal Tharaatha Marangal', 'Partner', 'Evening Batch' and '97 Batch Maharajas'. Read more about Jayasurya's new Malayalam films and related details here.


Jayasurya has been very active in recent Malayalam movies which have brought up the essential changes in Mollywood. The actor has similar upcoming projects in his kitty. Jayasurya is one such actor who goes behind the character and roles rather than heroism. He has been seen donning every roles- hero, supporting actor and villain. A favourite actor for the directors, he stars in both commercial and feature films. His upcoming Malayalam movies also have him playing these roles. Jayasurya will be seen doing commercial entertainers and other feature movies in 2013. The new Malayalam movie releases of Jayasurya are 'D Company', 'Punnyalan Agarbathis' etc. Jayasurya has other announced projects like 'Kallan: Thaskaran Maniyan Pilayude Athmakadha', 'Evening Batch', '97 Batch Maharajas' and 'Partner'. The actor's combination with Anoop Menon always delivers the best movies in Malayalam. The duo will be seen in two movies this year- 'Partner' and '97 Maharajas'. Jayasurya is also eying for his entry into Kollywood with a V K Prakashan project. Jayasurya also turns a producer in 2013. 2013 is going to be an eventful year in his life. Read more about the upcoming Malayalam movies of Jayasurya and related details below.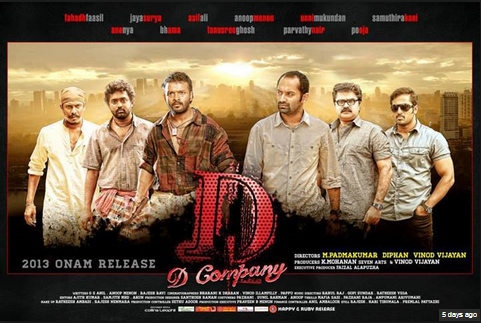 D Company-Gangs of Vadakkumnathan
Jayasurya does the lead role in one of the segment-'Gangs of Vadakkumnathan', in 'D Company'. 'Gangs of Vadakkumnathan' is directed by Dipan and is being penned by Anoop Menon. Anoop Menon also does an important role in the movie along with Jayasurya and Unni Mukundan. The movie talks about some notorious gangs in Thrissur and their fight. Jayasurya dons the role of a character named Varaalu Jaison, a cold blood gunda in the region. D Company contains five short films and will be released in two separate parts. Jayasurya's Gangs of Vadakkumnathan and other two short films – 'Oru Bolivian Diary' starring Asif Ali and 'Dia' starring Fahad Fazil, are in the first part.' D Company Part I' is most likely to release during this Onam holidays. Now the post-production works of these movies are going on. 'Gangs of Vadakkumnathan' is an action thriller just like the rest four movies in 'D Company'.


Punnyalan Agarbathis
Jayasurya turns producer with 'Punnyalan Agarbathis'. The movie is directed by Ranjith Shankar. The plot is set at Thrissur. Jayasurya's character in the movie is very film passionate man- Jose Thakkolkkaran. His ultimate aim in life is to become a well-known filmmaker. 'Punnyalan Agarbathis' is a ride through Jose Thakkolkkaran's life and various events taking him to the film arena. The movie would be a complete entertainer and the shooting of it will start in August.


Kallan: Thaskaran Maniyan Pilayude Athmakadha
' Kallan: Thaskaran Maniyan Pilayude Athmakadha' is based on a novel with same title. Jayasurya dons the role of a thief in this movie. This will be Babu Janardhanan's second directorial venture. The scripting is also done by the director himself. Jayasurya's character in the movie is Maniyan Pila, a known intelligent thief. The movie takes us through his eventful and adventurous life. Maniyan Pila establishes himself a great thief at the age of 20. He makes very risky thefts moves to another state and even tries to participate in the election. This commercial entertainer is produced under the banner of Anaswara Films by Arun P Vasudevan.


97 Batch Maharajas
The lucky pairs Jayasurya and Anoop Menon star in this campus flick. '97 Batch Maharajas' is going to be the first movie of them in a campus background. It is directed by debutante Basheer Muhammed. The movie is set in Maharajas college and revolves around the life of seven men and women who had studied together there in the 1997 batch. These seven yest-year students are now living at different countries and plan a get together at Colombo. '97 Batch Maharajas' takes off from here, going through their beautiful campus life and present life. Apart from Jayasurya and Anoop Menon, Sidharth Bharathan, Tini Tom, Saiju Kurup, Nandu, Mamukkoya, Arun and Ramesh Pisharadi are in the main casts. The story and screenplay is from Anoop Menon. Milan Jaleel is the producer of this movie under the banner of Galaxy Films.


Partner
Jaysurya will be donning the lead character for the sixth time in Saji Surendran's movie. The actor-director combination has gifted us fabulous movies like 'Husbands in Goa', 'Ivar Vivahitharayal' etc. This time they are coming up with 'Partner'. Kirshan Poojappura writes the script for new movie. The story of 'Partner' is about how one person is part of another person's life at different relationships in life, just like the name suggests. The movie also sheds limelight into different nature of people around us.


Evening Batch
'Evening Batch' is directed by debutante Boban Samule. The movie is a family entertainer. Jayasurya dons the role of a simple young man named David. The only job David has is to solve different problems of his friends, family and other relatives. The movie will be a comedy flick. Jayasurya's comedy movies like this used to be hit movies. When the actor is coming up with some of the best Malayalam film comedy stars like Suraj Venjaramood, this new film is also going to have its own impact in Malayalam movie. 'Evening Batch' will be produced by yest-year actress Reena.

Jayasurya has few more interesting projects under discussion. Dr.Biju's 'Thanal Tharaatha Marangal' is the prominent one. This is a feature film. 'Thanal Tharaatha Marangal' will have Jayasurya doing a not seen role. He will be donning the role of a sweeper working at Cochin in the movie. Salim Kumar and Malika are other lead actors in 'Thanal Tharaatha Marangal'. Jayasurya and VKP are planning for a Tamil movie to be penned by Jaymohan. Grapevine is that this new venture from the actor and director would be an action thriller. Jayasurya and VK Prakshan have recently done 7 films together and were received positively by the audience. This new film is on the way to attract Tamil audiences. The new upcoming Malayalam movies of Jayasurya are very promising. The actor himself is very thrilled with his new movies. Let this year also brings commercial hits and critically appealing movies in his filmography.