Punnamada Resort in Kerala – Complete facilities, packages, services and contact details

Would you like to stay in best hotel at Alappuzha? Then Punnamada Resort is one of the greatest hotel near to Alappuzha which has outstanding features, facilities and excellent services. Read here about complete facilities, packages, services and contact details of Punnamada Resort.


The Punnamada Resort enthralls you with comfort and luxury at location which gives an immense pleasure to enjoy the holidays with great fun. The serene backwaters of the lake spread far and wide at the edge of the resort and you can watch them with a cup of tea in hand from the sit out of your Villa. The Green stretch of the resort is really amazing and makes us feel relaxed great peace is experienced here. The Punnamada comes with the heritage which allows plenty of sunlight. It has an Ayurveda and wellness therapies, bicycle rides, house boat cruise, spacious and well equipped villas and swimming pool etc. Come and Enjoy the Holiday with Punnamada Resort.


Activities in Punnamada Resort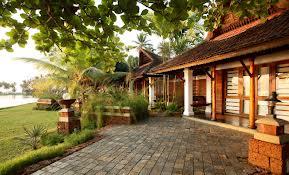 The Punnamada is known for its quality and the activities are more to enjoy with family and friends the outdoor activities, indoor activities and chargeable activities are allowed in Punnamada. The Outdoor activities are basketball, swimming, cycling, rowing boat, ball badminton, shuttle etc. The Indoor activities are chess, caroms, playing cards, snooker, table tennis, snake and ladder etc. Chargeable activities are house boat, motor boat, speed boat, Sightseeing. The Punnamada Resort also got a certificate of excellence in 2012.


Restaurant facilities in Punnamada Resort

The Resort is fully equipped and to make the guest pleasurable the restaurant is fully furnished and looks great and also they provides good quality foods and beverages. It is Furnished Luxuriously and allow plenty amount of sunlight to come in.The Restaurant is 24/7 it contains vegetarian and non- vegetarian too but the dishes are mostly in Malaya lees style. Delicious foods and whatever you needs everything is full filled in Punnamada. The Multi Cuisine Punnamada restaurant is appointed by experts who take care of guests with immense care. The Chefs can make food of guest's choice at instant. The Ambience is mind blowing and you will surely enjoy a great time with your beloved in Punnamada.


Tariff Plans in Punnamada Resort

• Garden Villa-Rs.10000-13000
• Duplex Villa-Rs.12000-15200
• Lake View Villa-RS.15000-18200
• Extra Bed for Child-Rs.1250-2050
• Extra Bed for Adult-Rs.2500-3800
• Rates mentioned above are double occupancy basis

Taxes extra are applicable

Rates
• Special welcome and welcome drink
• Meal on Plan
• Safe Deposit Locker, Hair dryer, Tea Coffee maker in room
• Swimming pool
• Usage of Games Room
• Bicycles

Child Policies
• Below 5 Years can stay with parents
• 5-12 child rates are applicable.


Special Package in Punnamada

Total Package Cost of Rs.13999

• 2 Nights in garden Villa As Per Punnamada Plan
• Sunset Cruise during the Day
• 20% Discount on other buy from Resort
• Safe deposit Locker, Hair dryer, Tea Coffee maker in room
• Welcome drink on arrival
• Free WI-FI
• A Guided village tour
• Complimentary use of Paddle Boat, Row Boat and swimming Pool
• Check In: 1.00 PM and Check Out: 11.00 AM

More availability in this package and the discount is up to 40 % in Punnamada. Come and enjoy the God's Gift in Kerala.


House Boats Kerala

House Boats or Kottuvellam as they locally called are the great way to explore nature well in the backwater of Kerala and everyone loves to have a ride. This becomes an integral part of experiencing the beauty of Allepy and backwater beauty. Punnamada boats are equipped with two rooms with chefs for all our need are full filled in this House Boats.


Contact Details

Punnamada Resorts
Alappuzha – 688006
Kerala, India
Phone: 0477 2233691/692/693
Email:mail@punnamada.com