Taj Garden Retreat in Kerala at Thekkady – Facilties, services and contact address

Taj Garden retreat at Thekkady facilties, services and contact address are given here. Taj Garden Retreat is a group of Taj Hotel which is completely having high quality, services and customer support? Would you like to know more about their quality and services?


The Taj Garden Retreat is a rustic resort is set in a three and half acres estate of coffee, Spices, fruit trees, at the periphery of the periyar wild life sanctuary. The Taj Garden Retreat come with the 32 rooms in cottages built on stilts and surrounded by thick woods. Thekkady is the most fascinating pace in Kerala were many tourist spots can be admired by visitors. It is a tiny Hamlet on the periphery of Periyar wildlife Sanctuary in Kerala. The Sanctuary is allows visitors to view an elephants, wild Boar, deer and other wild animals. Visitors also enjoy the nature's beauty and the singing of birds every small is to be tasted by visitors in Thekady Taj garden Retreat.


Facilities available in Taj Garden Retreat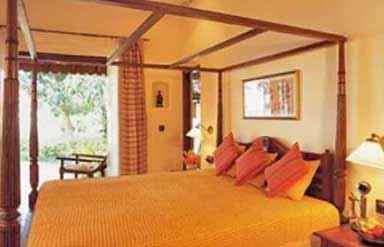 This Taj Garden Retreat is mostly liked by many peoples and it is fully furnished with great values. The Interior and exterior are good enough. Here in Taj Garden Retreat we can have an Ayurveda therapies in lake view Dining room for families who can chat over there and enjoy for whole night. The Taj Garden Retreat is mostly liked by Honeymooners. Car Hiring is also available for guest to visit some tourist spots around the Taj Garden Retreat Doctor-on-call facility also available for guests. Currency exchange is also available in Taj Garden Retreat.

• Ayurveda Therapies
• Dining Room
• Yogasanas
• Car Hire
• Laundry
• Doctor-on-call
• Currency exchange


Tariff Plans

The Tariff plans are starts from Rs.4000 for single room and for double room it comes under Rs: 5000 and all rooms are furnished with both A/C and Non A/c Rooms. An Antique decorated room gives us immense pleasure to relax. Persons above 12 years are considered to be adult and full tariff rate is applicable. Refreshing Ayurveda Treatments and Yogasanas Also Taken Here come and enjoy the Breeze of Natures Beauty once.

• Compulsory Christmas Eve Dinner
• Compulsory New Year Eve Dinner
• Inclusive of all Taxes


Attraction Point of Taj Garden Retreat

The Taj Garden Retreat is got with its natural beauty over the lake and the views are fascinating for everyone who wants to admire Kerala. Here Many facilities are available for guests with moderate cost and guest can experience a pleasure full atmosphere overall in the Taj Garden Retreat. Overall the views captured here are most memorable and can able to hide it from others. Here they arrange a visit to many tourist spots and The Taj Garden Retreat is also called as Honeymooners Spot and people will surely like this place if they visit. The atmosphere overall tends every people to come again and again without fail and they are not able to leave the place that much easily.


Tourist Activities in Taj Garden Retreat

Here there is a Boating in the Famous Periyar wildlife sanctuaries is spotted on either side as you cruise along. The Exotic Mangaladevi temple and The Pallikannu which is the 18 Th century British Church is also located very nearer to the Hotel Tree Top. These are some of the sightseeing areas in and around Hotel Tree Top.

• Boating
• Periyar Wildlife Sanctuary
• Mangaladevi Temple
• Pallikannu British Church


Climatic Conditions

• Area:777 Sq. Kms
• Population:6.22 mn
• Altitude:2700 feet above sea level
• Temperature: Max 27 C min 11 C
• Rainfall:2500 mm


Contact Details

Taj Garden Retreat
Amalambika Road
Via Kumily, Thekkady-685536
Kerala, India.