Michaels Inn in Kerala – Facilities, Features, Services and contact address

The Michaels inn situated at Periyar Tiger Reserves and it is one of the first private sector resorts in Kerala. Michael's inn was conceptualized on the traditional architectural splendor of a typical Kerala village with a Tulasi Thara and Nellukattu. Read here its facilities and services.


The Michaels inn hotel is good with a spacious rooms which is simply clean and good in heritage also with some modern facilities with air conditioned and also available in Non – Air conditioned rooms. The room has an antique Object a huge metal safe in one room, an ornate set of trinket boxes are tells about our heritage. The stroll round the hall tends us to be in museum and it will be mostly like those who prefer for heritage.


Facilities Available Michaels Inn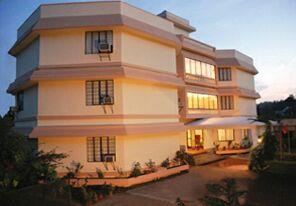 This Michaels inn is mostly liked by many peoples and it is fully furnished with great values. The Interior and exterior are good enough. Here in Michael's inn we can have an Ayurveda therapy in lake view Dining room for families who can chat over there and enjoy for whole night. The Michaels inn is mostly liked by Honeymooners. Michaels inn offers Doctor-on-call facility also available for guests. Here everything is in traditional and village style that admires most of the Guest to drive in for Hotel Ambady. Traditionally hand crafted cots, tables, chairs are preserved with passion.

• Trekking.
• Dining Room
• Yogasanas
• Cultural Events
• Indoor Shuttle Badminton
• Car Hire
• Doctor-on-call and more


Tariff Plans in Michaels Inn

• A/C Deluxe:Rs.2200+Tax
• Non A/C Deluxe Double:Rs.1700+Tax
• A/C Executive Room:Rs.2800+Tax
• Non A/C Executive Room:Rs.2600+Tax
• Extra Bed:Rs.575
• Luxury Tax 15%
• Check In: 12:00 Hrs.
• Check Out:12:00 Noon


Attraction Point of Michaels Inn

The Michaels Inn is got with its natural beauty over the lake and the views are fascinating for everyone who wants to admire Kerala. Here Many facilities are available for guests with moderate cost and guest can experience a pleasure full atmosphere overall in the Hotel Ambady. Overall the views captured here are most memorable and can able to hide it from others. Many tourist spots and The Michaels Inn is also loved by Honeymooners. And people will surely like this place if they visit. The atmosphere overall tends every people to come again and again without fail and they are not able to leave the place that much easily.


Tourist Activities in Michaels Inn

Here there is a Boating in the Famous Periyar Lake is very enjoyable and you will spot wildlife sanctuaries on either side as you cruise along. Ammatchy Kottaram is an ancient summer palace built by the Maharaja of Travancore in traditional Nallukettu Style. The Exotic Mangaladevi temple and The Pallikannu which is the 18th century British Church is also located very nearer to the Hotel Ambady.. These are some of the sightseeing areas in and around Michaels Inn.

• Boating
• Spice Garden Murikady
• Periyar Wildlife Sanctuary
• Mangaladevi Temple
• Pallikannu British Church


Contact Details

Michaels Inn
Kumily PO
Periyar
Thekkady Road
Idukki-685509
Kerala
India