Bolgatty Palace in Kerala - A Unique Tourist Destination

Would you like to visit Bolgatty Palace in Kochi,Kerala? Bolgatty Palace is situated in Kerala which is very popular in Kerala. Do you want to know more details about Bolgatty Palace? Read here about Bolgatty Palace's attraction places, facilities, accommodation facilities and contact address.


Bolgatty Kerala Palace is a gateway of Cochin. This palace is constructed by Dutch people in the year of 1744. Day by day the visitors towards this Palace are getting increased. This Palace deals out with historical views and memorable pillars. The view of this Palace will give a different environment for the visitors. In the way to enjoy that, most of the touristic are making use of the accommodation facilities in this Palace and staying.


Accommodation facilities in Bolgatty Kerala Palace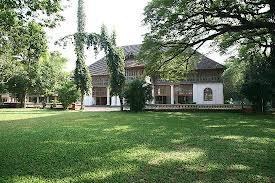 Accommodation facilities in Bolgatty Kerala Palace includes with Lake Front A/C and Golf View A/C in single, Double rooms. Deluxe A/C with Bolgatty Block also available in single and double bed room same facilities of rooms is hold with Suite A/C room in Marina Block. This type of block will be very good and gives an ideal elegant view. Palace Suite offers with same variety of single and double bed rooms.


Facilities in Bolgatty Kerala Palace
Bolgatty Event Centre

Boat Cruises

Mini Bar

Boat Jetty

Recreation room with billiards, chess, cards

Internet Browsing

Health club

Swimming Pool

Conference Halls

Restaurant

Gold Course

Ayurveda

24x7 services

Laundry facilities

Gym
Some of the other facilities includes with
Every person in this palace can get their breakfast at a range of 250/-

Lunch and the respective dinner per head for per day is Rs. 450/-

According to this Palace, Children's are considered to be an age group of about 6 to 12 years.
Traffic and Offers

Accommodation includes with MAP and AP facilities of rooms now offers with high traffic. So, the touristic comes to the Kerala will identify this offers as their best deal without any type of doubt. The offers includes with the following rooms and respective traffics, which are applicable from October 2013 to September 2014. Golf View /Lake View facility offers with 3,150 Single rooms and respective double room is 4,100. Deluxe/Marina View facility offers with 4,150 to 5,100 Rs. Marina Suite offers with a single room in a range of 6,600 and double room includes with a range of 6,600. Palace Suite includes with a single room of 12,600 DBL offers with 12,600. Lake Front A/C offers with 3200 and respective double room is 4600 Rs. These traffics are available and limited with respective range of days and months. So, tourists are advised to refer to the home page or directly contact them in order to get an instant range of traffics.


Attractions and Places to Visit nearby

Bolgatty Kerala Palace holds with many attractions spots and maximum activities. Few of the attractions spots are:

Marine Drive from Palace it will take 5 minutes. Synagogue and Jew Town walk able distance will take 10 minutes from Palace. Durbar Hall Art Gallery is nearby Palace will take 10 minutes. Willingdon Island holds with elegant view will take 10 minutes from the Palace. Fort Kochi will take maximum of about 15 minutes from the palace. Many other places like club, Church, Bungalows and many more. Kumbalangi Tourist Village is 45 away from the Palace if you go by road. This village holds with Fishing facility, backwaters. The tourist will find their good time here.


How to reach Bolgatty Kerala Palace?

The tourist can reach this Palace by road, train and airways. Since, it is in Cochin centre reachable towards this Palace is simple and easy.


Contact details

The Manager
Bolgatty Palace and Island Resort (KTDC)
Mulavukadu,
Kochi - 682504,
Kerala, India
Phone: +91-484-2750500, 2750600
Fax: +91-484-2750457
Email: bolgattypalace@ktdc.com