Naku Penta Naku Taka: Experience the high dose Kenyan voyage

Naku Penta Naku Taka malayalam movie directed by Vayalar Madhavnkutty featuring Indrajith and Bhama will be releasing on 13th June 2014. Scripted by Jayamohan, the movie is blessed with the presence of Murali Gopi, Shankar, Sudeer Karamana, Anusree, Sunil Sugadha, Sethu Lakshmi, Pradeep Kottayam, Bindhu Murali, Venu Vazhuthakadu and Pradeep Chandran. For the lyrics of Vayalar Madhavankutty and Hari Narayanan, the tunes are set by Gopi Sunder. The camera is helmed by Krish Kaimal.


After having a thrilling journey through Uganda, malayali audience is invited to taste flavours of yet another African nation. Shot exclusively in Kenya, Vayalar Madhavankutty's 'Naku Penta Naku Taka' will be a unique experience for the fun loving movie lovers to enjoy the best locales of Kenya, one of the most developed country in Africa.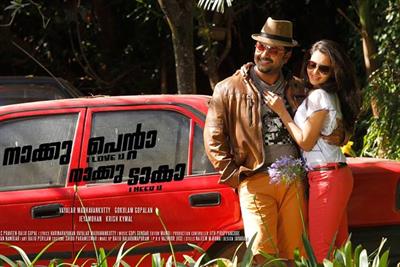 This complete family entertainer which has Indrajith and Bhama in lead is themed around a girl who dreams to marry a person working in United States of America. But she ends up getting married a man working in South Africa which shattered her dreams.

'Naku Penta Naku Taka' which means 'I Love U, I Want U' showcases the life and culture of African life. Shuba (Bhama) is a girl born in Kerala whose sole dream is to marry a man from America and settle there for the rest of her life. During the time, the family arranges her marriage with Vinay who was an Engineer named Vinay (Indrajith).

Soon after marriage, instead of USA, she was forced to travel to Africa which greeted her with a number of problems. Anton Kulasimham, a Srilankan citizen and notorious criminal who is under the scanner of the Interpol enters the life of the couple brings a lot of issues. How they tackle him forms the crux of the story. Vayalar Madhavankutty has given is signature touch and presented the movie in a humorous way.

Veteran actor Shankar dons the role of B K Ayyar, the manager of Vinay. Bhadran (Sudeer Karamana) and Suprend Karunan (Sunil Sugatha) are other prominent actors. Scripted by Jayamohan, the movie is also blessed with the presence of Sasi Kalinga, Anusree, Sethu Lakshmi, Pradeep Kottayam, Bindhu Murali, Venu Vazhuthakadu and Pradeep Chandran. For the lyrics of Vayalar Madhavankutty and Hari Narayanan, the tunes are set by Gopi Sunder.

The camera is helmed by Krish Kaimal. With a budget of 3 Crores, the movie is produced by Gokulam Gopalan under the banner of Sree Gokulam Films. Naku Penta Naku Taka will reach theatres on 13th June 2014