Ennu Ninte Moidheen: Zooming an eternal love story onto frames

Ennu Ninte Moideen malayalam movie scripted and directed by debutante R S Vimal featuring Prithviraj and Parvathy Menon in lead roles will kick start from 25th June. The movie zooms into the real life story of eternal hero Moideen and his lover Kaanjanamala. Lena, Bala and Sreejith Ravi would also give life to other prominent characters. With an experience of directing a couple of documentary films, Vimal has devoted five years to study the life of Moideen and Kaanjana.



Job oriented Digital Marketing Courses in Kerala.
Call +91 8138875600 for details
Prithviraj seems to be too busy these days shuttling from location to location. Riding on the success of '7th Day', the actor is gearing up to get featured in R S Vimal's directorial debut 'Ennu Ninte Moideen' which tells an eternal love story. The movie zooms into the everlasting real life story of Moideen and his lover Kaanjanamala.

With an experience of directing a couple of documentary films, Vimal has devoted five years to study the life of Moideen and Kaanjana. 'Jalam Kondu Murivettal', an award winning documentary film directed by Vimal featuring the tragic love story of Moideen and his lover Kaanjana which was screened at various film festivals had received well reception from the audience. This positive response made Vimal to take a step forward to think about a full length movie.

Set in the backdrops of 1960's, the story really happened at Mukkam in Kozhikode. Moideen, a man with perfection clubbed with multiple talents was footballer, editor of a sports magazine, a photographer, and also a social worker. Being an all-rounder and having a charming personality, Moideen had a secret crush on Kanjana which she realized during the school days. Their fathers were influential persons in the village and were great friends too. But even though the couple wished to live together, due to religious barriers, the family was against their relationship.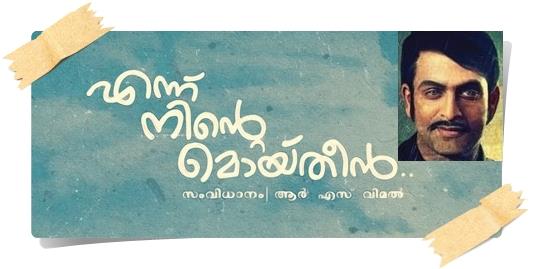 As Moideen and Kaanchana dreamt of uniting breaching the barriers of religion, their plans didn't succeed. She was virtually incarcerated in the house for over 25 years by her parents. Even though they tried to unite, all ended in futile. Kanchana during her detention attempted to kill herself. She even appealed to Moideen's mother to support her to carry on his bequest.

Finally in 1982 Moideen tragically died drowning while saving the victims of a boat accident. Later she moved to his house as his widow, even though they were unmarried. Moideen turn out to be a historical figure of Mukkam while Kaanchana, aged 74 years being active in social works remains unmarried and is still known as the widow of Moideen.

Lal plays the role of Unnimoyeen Sahib, a strong headed politician and a Congressman who was well-liked for his work and sturdy personality. Prithviraj and Parvathy Menon will appear in the role of B.P. Moideen and Kaanchana respectively. Prithviraj was choosen to play the lead character as the director felt that he was the apt person who resembled Moideen the most.

As rain and river will play an important part in the story, the shooting is planned to start during the monsoon. Bala plays the role of Sethu while Lena will give life to the character Pathumma. Sreejith Ravi's Mukkam Bhasi would add more strength to the movie. Produced by American Malayalis Suresh Raj and Binoy Shankarath under the banner Newton Movies, the movie will kick start from 25th June Mukkom in Kozhikode where the real-life couple lived.