Ithihasa: Enjoy the real fun at theatres

Ithihasa malayalam movie directed by Binu S featuring Shine Tom Chacko and Ansuree in lead is currently at the post production stage. Scripted by Anish Lee Asoka, the movie is being produced by Rajesh Augustine under the banner A R K Media. P Sreekumar, Swapna Menon, Balu Varghese and Vidya will be seen in prominent roles. The story revolves around the life of two clever thieves who lead a lavish and relaxed life. Once during a robbery they find something which unfolds the trick used by a king to defeat his


'Ithihasa' directed by debutante Binu S featuring Shine Tom Chacko and Ansuree in lead roles has completed shooting is ready for release. Scripted by Anish Lee Asoka, the story of the movie revolves around the life of two clever thieves who lead a lavish and relaxed life. Once during a robbery they find something which unfolds the trick used by a king to defeat his enemy 1000 years back.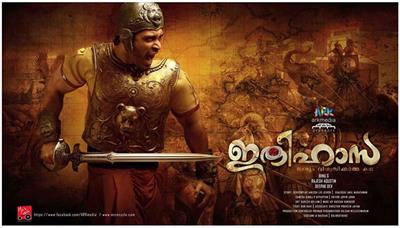 The story is set 1000 years back during a war held between two provincial states. To encourage the fighting soldiers, kings used to come and lead the war. During the war, one king who gets attacked by the other was severely wounded. The king who lost the war gave his special ring to the king who defeated him. With great surprise and anxiety, as the king wear the ring on his hand miracles happened. The body of both got interchanged while the king who lost the war killed the other.

After the war, the ring remained under the earth for a long period of time. The current owners of the centuries old ring are Alby and Janaki. Alby (Shine Tom Chacko) is a young man who makes his life on robbery and pick pocketing. Alby is supported by Vikku (Balu Varghese) for the burglary through which they lead a posh and luxurious life. Even being best friends, both of them were poles apart in their nature.

During the time, a Janaki(Anusree) an IT professional happens to enter their life. Even though she got a welcome job in the Info Park, she was interested to stay in the village enjoying the sweetness and belief of the place.

Even though Alby and Janaki are not familiar to each other, they happen to wear the rings at the same time which brings a lot of problems in their life. The movie is being produced by Rajesh Augustine under the banner A R K Media. P Sreekumar, Swapna Menon, and Vidya will be seen in prominent roles. Deepak Dev has set the background score and music of the movie. The camera is being helmed by Sinoj.