Monday to Friday: A romantic campus entertainer

Monday to Friday malayalam movie directed by Akbar and Shifas featuring Harikrishan, Viviya Santh and Sruthi Thampi is ready for release. Produced by Akbar under the banner of Paduvingal Films, the movie is blessed with the presence of Sunil Sugadha, Jeans, Nakshatra, Sreelatha Namboothiri and Seema G Nair in prominent roles. The story is written by Akbar P K while the screenplay is handled by Rameez. The lyrics and tunes are set by Markose Manu.


Harikrishnan has shown his mettle through his acting skill displayed in movies like 'Malarvadi Arts Club', 'Om Santhi Osana', and 'Thira' would don the lead role in 'Monday to Friday' which is a rational presentation of campus love.

Abhay (Harikrishnan) is an easy going guy who leads a sumptuous and jovial life. Abhay had the habit of flirting with beautiful girls and giving them hollow promises to tie the knot. In the later period, he used to avoid them without any penitence which was quite common in his campus life.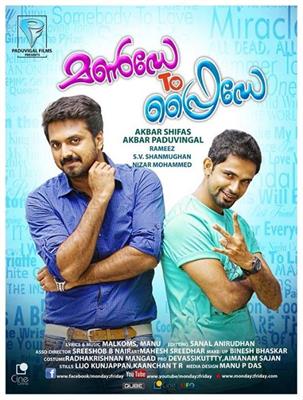 Varun (Jeans), Abhay's elder brother who had a dissimilar in character was totally against the nature of Abhay. He thought of working a play on Abhay aiming to stop his heartless behaviour. Varun proclaimed to get married to Nidhi (Viviya) who was once the lover of Abhay. The decision taken by his brother was not much digestible for Abhay.

He approached Nidhi and wished to talk to her. But Nidhi who had a bad experience from her former lover kept him away. The next day Varun decided to exchange the ring with Nidhi while Abhay too was invited to witness it. As Abhay was at the function, more interesting events were ready to get unboxed. The twists and turns which are to be followed form the crux of the movie.

A young cast including Sruthi Thampi and Nakshatra would add more colours to the movie. Sunil Sugatha, Sreelatha Namboothiri and Seema G Nair will also be seen in prominent roles. Jeans who had earlier appeared in 'Annayum Rasoolum' is much ambitious about his character and look forward to create his own space in the industry. Sruthi Thampi with an experience of working with the short film 'Alabya Labhya Sree' is a professional dancer and is currently associated with heavenly 7 dance company.

Soft Engineer turned actress Viviya Santh, who has appeared in almost 30 ads is much ambitious about her filmy career. She has also acted in 'Just Married' which is also currently at the post production stage.