Mathrubumi Thozhilvartha 12th July 2014 issue now in stands

Mathrubumi Thozhilvartha 12th July 2014 issue is now in stands. To read the latest issue of Mathrubumi Thozhilvartha dated 12 July 2014 (published on 7 July), buy a copy from your local book vendor. Thozhilvartha published by Mathrubumi is one of the leading employment weekly featuring updated news on rising opportunities in public and private sectors.


Mathrubumi Thozhilvartha, the No.1 weekly for job prospects in Kerala has published its 12th July 2014 issue. As like its previous issues, prime importance is given to the Kerala PSC notifications and solved paper. The major highlights of the current issue are the latest PSC notifications and lists of Tribal Watcher, Police Constable and Driver. PSC Supplementary Exam Calender August 2014, Solved Paper-VEO Grade II Junior Assistant Foam Mattings Ltd finds place in this issue while special orientation on Police Exams, HSA, Last Grade, SSC-CGL are also added in the current edition of Kerala PSC.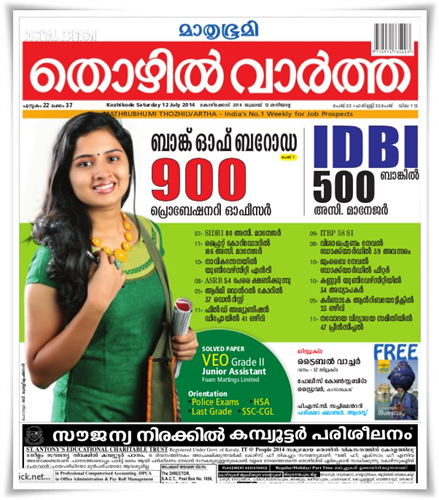 While going through the pages, one can find the arising vacancies in Indian Army, Indian Air force, Ammunition Depot and Naval Dock along with prospects in various Universities, Colleges and Schools in Kerala and other states. New vacancies reported are 900 probationary officers in Bank of Baroda, 500 jobs in IDBI bank, 80 officers in SIDBI, 186 Assistant Managers in Fright Corridor, Entry in Indian Navy University, 54 in ASRB, 37 dentists in Army dental core, 41 opening in Field Ammunition, 58 SI in ITBP and 23 vacancies in Karnataka Antibiotics.

Solved papers of Kerala PSC Village Extension Officer (VEO) Grade II Junior Assistant Foam Mattings Ltd PSC rank list of Tribal watcher and PSC short list of Police Constable Driver are published in this issue for reference. The rank list of Tribal watcher will give an opportunity for those who got into the list to make a self preparation for the job. Special coaching on upcoming Police Exams, HSA, Last Grade, SSC-CGL can give more confidence for those candidates who are preparing for the forthcoming exams in August, September and later. A free booklet with latest general knowledge would be helpful to update the new events which happened in the near past.

The month of August is very crucial for candidates who are appearing for the various police and excise exams. According to the latest assessment more than 5 lakh more people have applied for various posts. As the Sub Inspector of Police, Excise Inspector and Women Excise Guard/Women Police Constable fall in August 2014, 'Thozhilvartha' would use the time to deliver hardcore training for the PSC aspirants who are preparing to clinch their dream job. We can expect more solved question papers and coaching for upcoming PSC exam in the next issues.

Job seekers in Kerala can best use 'Thozhilvartha' to check for rising opportunities and also could apply for their preferred posts. With a circulation of more than 1 lakh copies, 'Thozhilveedhi' is the most popular employment newspaper among the reading community. This newspaper has motivated million to thrive and achieve success in life.

So can you leave the current issue of this ostentatious employment newspaper? Grab 12th July 2014 issue of 'Thozhilveedhi' from your nearest book vendor and make the great step forward.