Mathrubumi Thozhilvartha 9th August 2014 issue now in stands

Mathrubumi Thozhilvartha 9th August 2014 issue is now in stands. To read the latest issue of Mathrubumi Thozhilvartha dated 9 August 2014 (published on 4 August), buy a copy from your local book vendor. Thozhilvartha published by Mathrubumi is one of the leading employment weekly featuring updated news on rising opening in public and private sectors.


Mathrubumi Thozhilvartha, one of the most circulated employment newspaper for job prospects in Kerala has published its 9th August 2014 issue. Like its previous editions, special preference is given to the Kerala PSC notifications, solved paper and exam preparations. The highlights of the current issue are the latest PSC Notifications, Solved Paper of Sub Inspector/Excise Inspector/Asst.Jailer exams. HSA English and Mathematics syllabus is given in detail.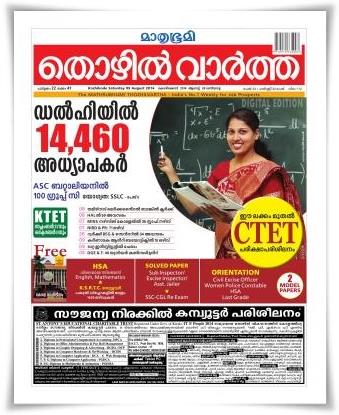 Special orientation is given to Civil Excise Officer, Women Police Constable and Last Grade exams. Hardcore coaching of various upcoming exams including KET will enable the candidates to give an insight to the candidates who are undergoing preparation.

While going through the pages, details about vacancies reported from various institutions and departments are given with much importance. 14, 460 teachers in Delhi, 100 Group C in ASC Battalion, vacancies in Tamil Nadu Mercantile Bank Clerk, 56 opening in HAL, 35 staff nurses in MINS Nursing College, 71 in NIRD & PR, 34 in Rurki BEG & Centre, 15 in Karnataka Anti Biotic, 46 Junior Consultants in Tata Institute DGE & T, 1400 drivers in KSRTC are also reported.

Solved Papers of recently held Sub Inspector/Excise Inspector/Asst.Jailer exams would enable the candidates to know the result of their performance. Notification about the upcoming K TET and CTET exams to be held in coming months should be taken with due respect to get a job with state and private institutions. Special coaching can be expected in the next issues of 'Thozhilvartha'.

The free booklet 'Harisree' which is updated with latest general knowledge serves as a companion for the applicants. Having a circulation of more than 1 lakh copies, 'Thozhilveedhi' is one of the most popular employment newspaper in Kerala. This miniature GK guide is very valuable to keep the facts and figures updated.

Can you leave the current issue of this flamboyant employment newspaper? Grab 9th August 2014 issue of 'Thozhilveedhi' from your nearest book vendor and live your dream.