Mathrubumi Thozhilvartha 19th July 2014 issue now in stands

Mathrubumi Thozhilvartha 19th July 2014 issue is now in stands. To read the latest issue of Mathrubumi Thozhilvartha dated 19 July 2014 (published on 14 July), buy a copy from your local book vendor. Thozhilvartha published by Mathrubumi is one of the leading employment weekly featuring updated news on rising opportunities in public and private sectors.


Mathrubumi Thozhilvartha, the No.1 weekly for job prospects in Kerala has published its 12th July 2014 issue. As like its previous issues, prime importance is given to the Kerala PSC notifications and solved paper. The major highlights of the current issue are the latest PSC notifications, special orientation on Police Exams, HAS, Last Grade, SSC – CHGL examinations. Solved paper of Process Server/ Duffedar/ Court Keeper will give an insight to those candidates who are preparing for the upcoming exam.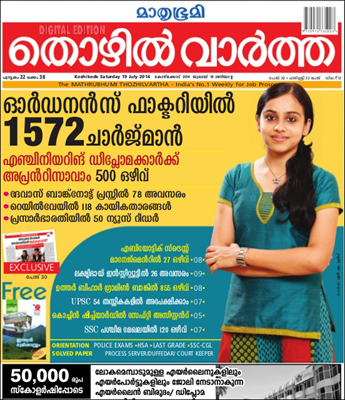 While going through the pages, we can find the arising vacancies in Ordinance Factory, Devas Banknote Press, Railway, Prasar Bharathi, Abiotic Stress Management, Lakshmibhai Institute, Uthar Bihar Gramin Bank and Cochin Shipyard along with prospects in various Universities, Colleges and Schools in Kerala and other states. New vacancies reported are 1572 charge man in Ordinance Factory, 500 opening for Engineering Diploma holders, 78 jobs in Devas Banknote Press, 118 sportspersons in Railway and 50 news readers in Prasar Bharathi.

27 vacancies in Abiotic Stress Management, 26 opportunities in Lakshmibhai Institute, 855 jobs in Uthar Bihar Gramin Bank, 52 posts of UPSC, Safety officers in Cochin Shipyard and 120 vacancies in SSC Western section. Special coaching on upcoming Police exams, HAS, Last Grade and SSC – CHGL would enable the candidates to make an apposite preparation much before the test. As the exams falls in the month of August and September, candidates can have a hardcore training to build up maximum confidence. The solved papers will also serve as a helping hand for the applicants to get awareness of the question pattern. A free booklet 'Harisree' with latest general knowledge would be helpful to update the new events which happened in the near past.

In true sense, the coming months would be a test time for the Kerala PSC aspirants as the Police and Last Grade Servant exams would put a real test for the candidates. With more than 5 lakh candidates applied for various police posts which include Sub Inspector of Police, Excise Inspector and Women Excise Guard/Women Police Constable, 'Thozhilvartha' knowing the importance of hardcore training will organize the best learning atmosphere for the PSC aspirants who are preparing to clinch their dream job.

We can expect more solved question papers and coaching for upcoming PSC exam in the next issues. Job seekers in Kerala can best use 'Thozhilvartha' to check for rising opportunities and also could apply for their preferred posts. With a circulation of more than 1 lakh copies, 'Thozhilveedhi' is the most popular employment newspaper among the reading community.

So can you leave the current issue of this ostentatious employment newspaper? Grab 19th July 2014 issue of 'Thozhilveedhi' from your nearest book vendor and fly high.