Mathrubumi Thozhilvartha 16th August 2014 issue now in stands

Mathrubumi Thozhilvartha 16th August 2014 issue is now in stands. To read the latest issue of Mathrubumi Thozhilvartha dated 16 August 2014 (published on 11 August), buy a copy from your local book vendor. Thozhilvartha published by Mathrubumi is one of the most popular employment weekly featuring updated news on rising opening in public and private sectors.


Mathrubumi Thozhilvartha, one of the most popular employment newspaper for job prospects in Kerala has published its 16th August 2014 issue. Like its previous editions, special preference is given to the Kerala PSC notifications, solved paper and exam preparations for upcoming exams.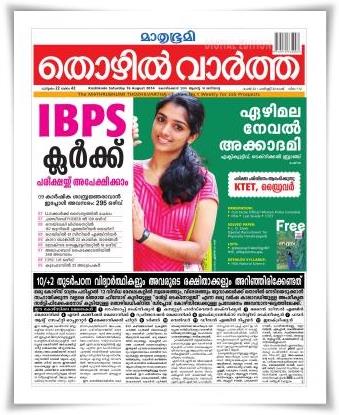 The highlights of the current issue are the latest PSC Notifications, Solved Paper of LD Clark exam. Special orientation is given to Civil Excise officer/Women Police Constable, HSA, Last Grade, CTET exams. The list of Laboratory Assistant and detailed Syllabus of HSA Natural Science are featured in the current issue.

Hardcore coaching of various upcoming exams including KET and Driver will enable the candidates to get an insight about the pattern of questions. The highlights of this issue are the rising vacancies in Army - Navy, Delhi Government, Southern Naval Command, Union Service, PGIMER, Neyveli Lignite, Scheduled Tribe and KUFOS.

While going through the pages, vacancies reported from various institutions and departments are given with much importance. 295 Agricultural Scientists, 61 Senior Engineers in GAIL, 22 Sports persons in Kanara Bank, 16 vacancies in Lok Sabha Secretariat, 349 opening in Allahabad Court, 108 jobs in UPSC, vacancies in Ezhimala Naval Academy, 3394 opening in Delhi government, 403 in Sothern Naval Command, 139 jobs in PGIMER, 157 opportunities in Neyveli Lignite, 100 social workers in Scheduled Tribe, 55 lecturers in KUFOS (Kerala University of Fisheries and Ocean Studies) are also reported.

Special coaching for upcoming Civil Excise officer/Women Police Constable, HSA, Last Grade, CTET exams would help the candidates to know the syllabus and model to have an early preparation. Solved Paper of recently held LD Clark exam will enables the candidates to make a self evaluation about their performance. Special coaching for forthcoming exams to be conducted in September and October can be expected in the next issues of 'Thozhilvartha'.

The employment newspaper is accompanied by a free booklet 'Harisree' which is updated with latest general knowledge. Many find this booklet as a perfect companion to know the current affairs. With a circulation of more than 1 lakh copies, 'Thozhilveedhi' is widely read in Kerala. This miniature GK guide with facts and figures can be kept for future reference.

So, can you leave the current issue of this ostentatious employment newspaper? Grab the 16th August 2014 issue of 'Thozhilveedhi' from your nearest book vendor and attain your dream job.