Mathrubumi Thozhilvartha 23rd August 2014 issue now in stands

Mathrubumi Thozhilvartha 23rd August 2014 issue is now in stands. To read the latest issue of Mathrubumi Thozhilvartha dated 23 August 2014 (published on 18 August), buy a copy from your local book vendor. Thozhilvartha published by Mathrubumi is one of the most popular employment weekly featuring updated news on rising opening in public and private sectors.


Mathrubumi Thozhilvartha, the leading employment newspaper for job prospects in Kerala has published its 23rd August 2014 issue. Like its earlier editions, special preference is given to the Kerala PSC notifications, solved paper and guidelines for upcoming exams. The major highlights of the current issue are the latest 51 PSC Notifications, Solved Paper of Civil Excise Officer and Last Grade Servants.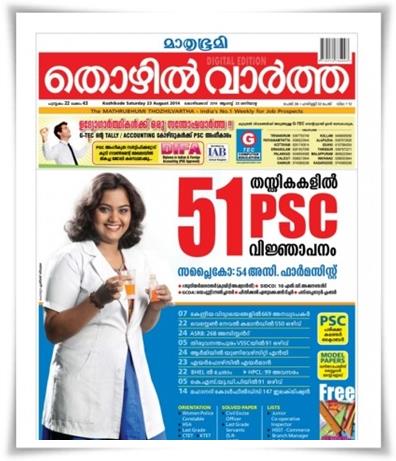 Special orientation is given to Women Police Constable, HSA, Last Grade, CTET, KTET and Driver exams. The list of Junior Co-operative Inspector, HSST-Commerce, Branch Manager DCB are featured in the current issue. The PSC Notifications include LD Clerk/Bill Collector, Deputy Town Planner, Attender, Lineman, LD Accountant, Pre Primary Teacher and others.

Rising vacancies in Kendriya Vidyalaya, Naval Command, ICAR, KSUSP and VSSC are featured in this issue of 'Thozhilvartha'. While going through the pages, 669 vacancies in Kendriya Vidyalaya, 550 opening in Naval Command, 268 Assistant in ICAR, 91 jobs in KSUSP and 93 in VSSC are reported. Special coaching for upcoming Women Police Constable, HSA, Last Grade, CTET, KTET and Driver exams which are scheduled to conduct in September and October.

Candidates need to have a well preparation much prior to the exam. A proper knowledge about the syllabus and referring previous question papers will help them to attain a top spot in the rank list. Mathrubumi Thozhilvartha is accompanied by a free booklet 'Harisree' which carries updates on most recent General Knowledge.

During the past years, many youngsters have found this booklet as a valuable guide to supplement their interest to know about the latest information. This miniature GK guide with facts and figures would serve for future need too. Having a circulation of more than 1 lakh copies, 'Thozhilveedhi' is widely read by job seekers in Kerala.

Can anyone leave the current issue of this ostentatious employment newspaper? So, buy the 23rd August 2014 issue of 'Thozhilveedhi' from your nearest book vendor and make your dream come true.