Mathrubumi Thozhilvartha 30th August 2014 issue now in stands

Mathrubumi Thozhilvartha 30th August 2014 issue is now in stands. To read the latest issue of Mathrubumi Thozhilvartha dated 30 August 2014 (published on 25 August), buy a copy from your local book vendor. Thozhilvartha published by Mathrubumi is one of the most popular employment weekly featuring updated news on rising opening in public and private sectors.


Mathrubumi Thozhilvartha, the leading employment newspaper for job prospects in Kerala has published its 30th August 2014 issue. Like its earlier issues, the current edition of 'Thozil Vartha' is credited with lot of arising opportunities in various fields.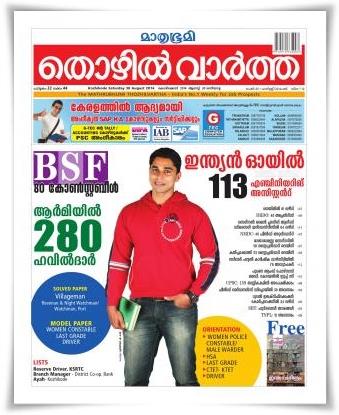 Special preference is given to the Kerala PSC notifications, solved paper, short lists and guidelines for upcoming exams. The highlights of the current issue are vacancies in Allahabad High Court, Union Service, Engineering Assistant in IOCL, Non Executive in GAIL, Head Constable in BSF, Army and Air Force. Along with latest PSC Notification, Model Paper, Kerala PSC Short list, PSC Rank List and Solved Paper are given with much importance.

Rising vacancies like 1387 opening in Allahabad High Court, 133 in Haryana, 87 in FDDI, 50 Stipend Trainee in RRCAT, 64 jobs in CMPDI, 159 in Union Service, vacancies for Head Constable in BSF, Opening in Army, Air Force Airman, 113 in Engineering Assistant in IOCL and 81 Non Executive in GAIL, 67 vacancies in PDIL are featured in this issue.

Special orientation for upcoming Women Police Constable/Male Warder HSA, Last Grade, CTET-KTET and Driver exams scheduled to conduct in September and October and following months would enable the candidates who are under preparation. PSC Rank List of Reserve Driver KSRTC and Forester, Solved Paper of Villageman Revenue & Night Watchman/ Watchman are also found its place in the 'Thozhilvartha' 30th August 2014 issue.

Model Paper of Women Constable, Short list of Branch Manager - District Cooperative Bank, Ayah - Kozhikode etc, Nursery School Teacher, Scheduled Tribe are also give for reference. Mathrubumi Thozhilvartha is well supported by a free booklet 'Harisree' which is a solution for updated General Knowledge. During the years, this booklet has provided complete support for youngsters and earning them their dream job. This miniature GK guide packed with facts and figures would serve for future need also. With a circulation of more than 1 lakh copies, 'Thozhilveedhi' is widely read by job seekers in Kerala.

Can you leave the current issue of this flamboyant employment newspaper? So the 30th August 2014 issue of 'Thozhilveedhi' is recommended for those who seek a job and live their dream.