Mathrubumi Thozhilvartha 6th September 2014 issue now in stands

Mathrubumi Thozhilvartha 6th September 2014 issue is now in stands. To read the latest issue of Mathrubumi Thozhilvartha dated 6 September 2014 (published on 1 September), buy a copy from your local book vendor. Thozhilvartha published by Mathrubumi is one of the most popular employment weekly featuring updated news on rising opening in public and private sectors.


Mathrubumi Thozhilvartha, the prominent employment newspaper which is highly popular for job prospects in Kerala has published its 6th September 2014 issue. As done in the past, the current edition of 'Thozil Vartha' comes with lot of arising opportunities in various fields.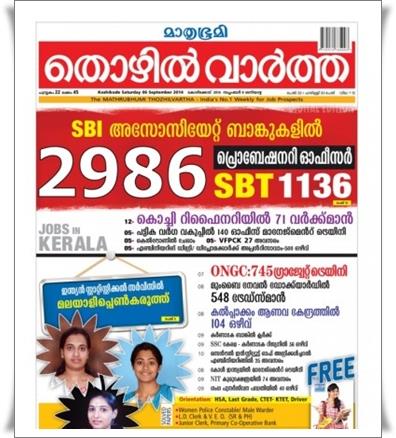 The major highlight od the latest issue are vacancies in Kochi Refineries, IGCAR, HPCL, SBI Banks, SBT, ONGC, Call India Management Training, Naval Dockyard, and National Institute of Technology. Latest Kerala PSC Notifications, Solved Papers of Women Police Constable/Male Warden, L.D.Clerk & VEO (SR & PH), Junior Clerk and Primary Co-operative Bank have also been published.

Job prospects in various fields including 2986 PO vacancies in SBI Banks, 1136 opening in SBT, 74 jobs in National Institute of Technology, 745 graduate trainee in ONGC, Call India Management Training, 548 in Naval Dockyard, 500 Apprentices in Kerala, 71 in Kochi Refineries, 104 in IGCAR and 99 opening in HPCL are also reported.

Crash coaching for various exams including HAS, Last Grade, CTET-KTET and Driver are featured in this issue. Rank Lists of Statistical Assistant/Statistical Investigator/Computer Operator, Thrissur, Pre-primary Teacher, Thiruvananthapuram are also given for reference.

Special coaching for Last Grade and various teaching exams would give confidence and insight for the students is doing last time preparation. 'Thozhilveedhi' had been doing a job for the students to gather much information and gain a ideal position in the rank list.

The free booklet 'Harisree, a miniature GK guide which is packed with facts and figures will serve as a perfect companion for those who wish to get updated with the latest General Knowledge. Readers have found this booklet much useful to gather information about various incidents around the world. With a circulation of more than 1 lakh copies, this employment magazine is widely read by job seekers in Kerala.

So grab the 6th September 2014 issue of 'Thozhilveedhi' which is recommended for those who seek a job and find a great position in the society.