Martyrs' Day India | Homage to Mahatma Gandhi on 63rd Martyrs Day Anniversary | Gandhi's Quotes

Read here about Martyrs Day, Martyrs Day in India, 63rd Martyrs Day Anniversary, Mahatma Gandhi on Martyrs Day, Gandhi's Inspirational Quotes, Martyrs Day Homage, 30th January Martyrs Day, Martyrs Day Mahatma Gandhi, Homage to Mahatma Gandhi on 63rd Martyrs Day Anniversary


Martyrs' Day India | Homage to Mahatma Gandhi on 63rd Martyrs Day Anniversary | Gandhi's Inspiring Quotes
Martyrs' Day India Homage to Mahatma Gandhi

Martyrs Day is observed across the country on 30th January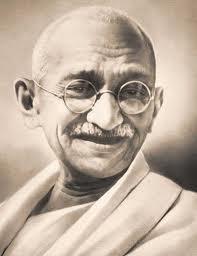 every year to honour and remember those who attained martyrdom, who gave up their lives in service of the Nation. Mahatma Gandhi - The Father of the Indian Nation was assassinated on January 30th, 1948, by Nathuram Godse and this day is observed as Martyr's Day in India.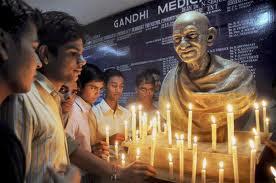 Mohandas Karamchand Gandhi was born on October 2, 1869. Gandhiji is loved by everyone for his simplicity and he led a life of a saint and he worked for establishing peace and he is a great supporter of non violence and truth. Honesty and truthfulness were qualities he observed and practiced throughout his life and he always practiced what he taught and he was affectionately known as Bapuji by everyone. Gandhi's words and deed influenced many to work towards the goals of freedom and justice through peaceful methods and with these he overcame the most brutal violence and oppression. He always practiced what he taught.

On the 63rd anniversary of the Martyrdom of the Father of Nation, Mahatma Gandhi, Special programmes will be organised at Gandhi Smriti Memorial dedicated to Mahatma Gandhi where various religious, political and spiritual leaders will take part in the ceremony and the day is observed with floral tributes, devotional songs offered with a musical tribute to Mahatma Gandhi on Martyrs day. On this day, a two-minute silence is observed in memory of the Father of the Nation and other martyred souls is observed throughout the country at 11:00 AM. These people live through their achievements. Let us join our hands to remain silent for 2 minutes on Martyrs day to pay homage and respect to our Martyrs and let us take a vow to eliminate violence and hatred from the society.


Gandhi's Inspiring Quotes

Here are some inspiring quotes by Mahatma Gandhi which serves as a guiding light to everyone.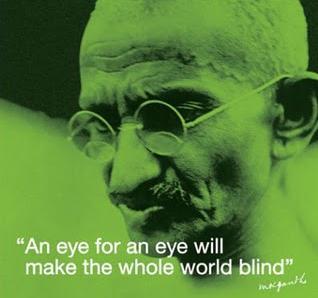 Please do not look to my life, But take me even as a lamppost on the road - Mohandas Gandhi


Always aim at complete harmony of thought and word and deed.
Always aim at purifying your thoughts and everything will be well.


If we are to teach real peace in this world,
and if we are to carry on a real war against war,
we shall have to begin with the children.


"Like the bee gathering honey from the different flowers, the wise person
accepts the essence of the different scriptures and sees only the good in all religions."


The weak can never forgive. Forgiveness is the attribute of the strong.


Power is of two kinds. One is obtained by the fear of punishment and
the other by acts of love. Power based on love is a thousand times more
effective and permanent then the one derived from fear of punishment.


Live as if you were to die tomorrow. Learn as if you were to live forever.


If I am to die by the bullet of a mad man, I must do so smiling.
There must be no anger within me. God must be in my heart and on my lips.
– Mohandas K. Gandhi, 28 January 1948, two days prior to his assassination.