Little Flower College, Guruvayoor - Courses & Details

Little Flower College is an ancient college situated in Guruvayoor of Thrissur district under Christian management. The college is a women's only college which offers various undergraduate and post graduate courses. If you need detailed information about this college, the courses offered, admission procedure, fee structure and so on, then read below. You will get all the details you are searching for.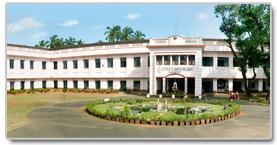 Little Flower College, Guruvayoor was started on 1st July 1955. It is commonly known by the short form "LF". This college is a Christian college and is coming under the religious jurisdiction of the Roman Catholic Archbishop of Thrissur. It is opened to students from all caste and race. The motto of this college is "Launch out into the deep". The main aim of the college and the authorities is to promote the glory of God and to stand for the good of our country. This college has a Christian atmosphere with a chapel inside the college compound for the college students and another one inside the hostel for the students staying in the hostel. This college has almost all the facilities of today's college and is very popular among the region.


Management Committee

The management committee of the Little Flower College Guruvayoor consists of Manager, Principal, Vice Principal, Superintendent, Warden, Teaching Staff Representative, Non-Teaching Staff Representative and Bursar.


Departments

Languages (English, Hindi, Malayalam), Functional English, Virtual communication, History Politics, Economics, Mathematics & Statistics, Physics, Chemistry, Botany, Zoology, Physical Education (P.E), Computer Science, Research Centre, Library and Continuing Education, a distance education unit of Madras University.


Courses Offered

B.A. English, B.A. Economics, B.A. History, B.sc Computer Science, B.sc Mathematics, B.sc Chemistry, B.sc Botany, B.sc Zoology, M.A. English, M.A Malayalam, M.Sc.Mathematics and P.G.Diploma in Virtual Communication and Creative Media are the courses offered in Little Flower College, Guruvayoor under Calicut University, various other courses are offered by Madras university. These course include B.com(Commerce), B.com(Bank Management), B.com(Comp.Application), B.C.A., MCA and Msc Computer Science. Other diploma and certificate course are also been offered by this college.


Admission

To apply for a seat at LF College, you have to fill up an application form and should mail it to the principal along with self addresses, stamped envelope. Incorrect, incomplete and late submission applications will not be considered. There are separate quotas available for admission like quota based on caste, merit quota, management quota and so on. The list of selected candidates will be published on the college notice board and an intimation card will be sent to the selected candidates. Such students have to appear for an interview with te principal. Those candidates who failed to do so will not be given admission. Documents such as SSLC certificate, Migration certificate, TC, Income certificate (for fee concession), Certificate to prove caste(those on caste quota) and other required documents are to be submitted during the interview.


Fee Structure

Tuition fees, Special fees, Lab fees and Caution deposit are the main types of fees accepted from the students. Lab fee and Caution deposit for all undergraduate students is Rs. 180/- and Rs. 360/- respectively. Tuition fee varies according to the course taken. The fees for PG courses ifs more than UG fees.


Computer Lab

This college has a very good computer lab especially for B.sc Computer Science students under Calicut university. There is another computer lab for those students who come for certificate courses and short-term courses. This is considered to be as an internet café. Also there is a separate computer lab for those students under Madras university.


Auditorium

The auditorium in this college is a very huge one with balcony. All the big functions in the college takes place in this auditorium as it can accommodate all the students in the college.


College Uniform

On Mondays : Churidar with navy blue top, white bottom and white shawl.
On Tuesdays and Wednesdays Churidar (without slit) with deep green top, Plain light green bottom and light green shawl.
On Thursday and Fridays Churidar (without slit) with maroon top, plain light pink bottom and light pink shawl.
On Special Occasions : Churidar (without slit) with navy blue top, white bottom and white shawl or Saree as advised.


Canteen & Store

The canteen at this college has a stationery store near it. Students and faculties can get refreshments and lunch from the canteen. Stationary items, hair accessories, chocolates etc can be purchased from the store nearby.


College Hostel

There is a three storied hostel building with ground floor, first floor and second floor. It can accommodate nearly 200 students. This hostel is really of great relief to students from other parts of the state. The hostel is situated within the college compound and is under the direct control of the principal. Wardens are appointed to take care of the students at hostel. There is a chapel inside the hostel.


Transportation

College buses are not available, hence the students have to find their own means of transportation. The college is situated in an ideal location so that it is easy for the students to reach by means of private or public transportation. Guruvayoor railway station is the nearest railway station.


Other Facilities
Seminar Hall


Health Centre


Counseling centre


Non Resident Student Centre
Address of Little Flower College, Guruvayoor

Little Flower College Guruvayoor
Puthenpalli (P O),
Thrissur (Dt.) – 680103
Kerala – India
Tel : 0091 487-2556957
Email : info@littleflowercollege.edu.in


Nearest Landmark

Little Flower College is situated near the famous Sri Krishna Temple Guruvayoor.