College of Engineering, Trivandrum - Infrastructure facilities, placement facilities

Would you like Join in College of engineering, trivandrum ? Find here details of College of engineering, tirvandrum and placement facilities, all other facilities. College of engineering is one of the greatest college in Kerala.



Job oriented Digital Marketing Courses in Kerala.
Call +91 8138875600 for details
The College of Engineering, Trivandrum was instituted in the year 1939. The Institution is affiliated to the University of Kerala and accredited by the AICTE with departments conforming to ISO 9000 certification. College covers over 125 acres of land. The college has its own campus and offers facilities like good environment, separate library building, high speed internet, well equipped computer labs and placement assistance to all the students.


Infrastructure on College of engineering, Trivandrum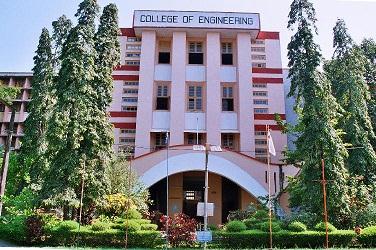 It is very good place for students who willing to learn lot. This is very good place for student accommodation and excellent environment for learning. For social and leisure activity Entrepreneurship Club, Staff Club, NSS have been setup. Here the students are developed into most competent and skilful professionals. This campus also having excellent conference halls, training centers etc.,


Library Facilities on College of engineering, Trivandrum

This College has one of the richest libraries which cover all department articles. There is separate library maintaining for Business Administration which has around 2000 books related to business and on managements. This library will open from 10 A.M to 5 P.M on all working days. This library has many divisions like books for reference division, books lending division, separate book bank for SC/ST and separate rooms for reading inside the library.


Computer labs facilities on College of engineering, Trivandrum

High configuration systems with all the learning software are installed in all systems. This computer lab started at 1999 itself. Totally 125 desktops, 30 Graphic workstation, separate 40 desktop for training center, separate video conferencing room. And this computer lab has 24*7 internet facility. And this computer lab opens from Morning 9 to Night 9 except weekend.


Transportation Facilities on College of engineering, Trivandrum

About transportation, the college buses are available to various routes for both the staff and students use. All the buses are plying through every nook and corner places and neighborhood towns. Private vehicles are not allowed inside the college for preventing accident. Transportation to all the places is done in very safe manner. All the teaching and non-teaching staffs can avail the transport facility.


Accommodation facilities on College of engineering, Trivandrum

About hostel facility, 240 rooms for boys can accommodate around 550 members and 140 rooms for girls which accommodate about 300 people. All rooms are furnished with bed, cupboard etc. There is indoor stadium facility is available for the students to conduct their sports event or cultural activities and during the weekend students can play. And the campus is facilitated by Wi-Fi connectivity, so students inside the campus can use this.


Placement facilities on College of engineering, Trivandrum

Here all the students are given training to place in top corporate companies. For placement they are organizing training for Group Discussion, Mock Interview, Aptitude Test, Personality development etc.

They are providing job opportunity in India and Abroad and them also providing self-employment opportunity and also providing training for competitive exams like GRE, CAT, SAT, GATE, GMAT, TOFEL. Placing the students in top reputed companies like TCS, CTS, HCL, Wipro, Mindtree, Infosys, BT, Patni, L & T InfoTech etc.


Some More Additional Features of College of engineering, Trivandrum

College of engineering, Trivandrum has following additional features such as Indoor Stadium, Open Air Theater, Planetarium, Industrial Visit, Hostels, Wi-Fi Connectivity , Fitness Center, Placement cell, Entrepreneurship Club, Guest House, Staff Club, Software Development Training Centers, Opportunities related to Job and Higher studies.


Trainings facilities on College of engineering, Trivandrum

Training for examinations: GRE, GMAT, TOEFL, SAT, GATE, CAT
Training for campus recruitment: Aptitude, Seminars, GD, and Personality development


College of engineering, Trivandrum Course details

For Undergraduate programmes
Degree: B.TECH
Specialization: Civil Engineering, EEE , Mechanical Engineering, ECE, CSE
Eligibility: Pass 10 + 2 in Mathematics, Chemistry, Physics with minimum 50%
Duration: 4 years

For Postgraduate programmes
Specialization course for CIVIL ENGINEERING
a. Structural Engineering
b. Geotechnical Engineering
c. Hydraulics Engineering
d. Environmental Engineering
(Any 2 courses will be offered at a time)

Available Specialization Courses for ELECTRICAL & ELECTRONICS ENGINEERING (EEE)
a. Control systems
b. Guidance and Navigation Control
c. Power system
d. Electrical Machines
(Any 2 courses will be offered at a time)

Specialization courses for MECHANICAL ENGINEERING
a. Thermal Science
b. Machine Design
c. Propulsion Engineering
d. Industrial Engineering
(Any 2 courses will be offered at a time)

Specialization courses for ELECTRONICS AND COMMUNICATION ENGINEERING (ECE)
a. Microwave and TV Engineering
b. Applied Electronics & Instrumentation
(Only One course will be offered at a time)


Contact address of College of engineering, Trivandrum

Address
College of Engineering Trivandrum,
Thiruvananthapuram,
Kerala - 695 016
Office: 0471-2515556
Principal: 0471-2515502
Enquiry on Evening Degree Course: 0471-2515508
Fax: 0471-2598370
Email: principal@cet.ac.in


Rating of College of engineering, Trivandrum

Overall Rating: Outstanding (5 Star)
Rating Categories: Outstanding (5 Star)
Excellent (4 Star)
Good (3 Star)
Fair (2 Stars)
Satisfactory (1 Star)
Poor (0 Star)
Overall College Ranking: 28