Vidya Academy of Science and Technology Thrissur, Kerala

Vidya academy of science and technology Kurumal(Thrissur),Kerala has got the primary place in modern engineering college. The college known in the abbreviated name as VAST is popularly fame not only in Kerala but also in outside of the state. Promptitude academic practice has make Vidya College in the primary line of engineering college in Kerala. Read more about Vidya academy of science and technology here.




Vidya academy of science and technology is one of the finest new generation engineering college in Kerala with full aid of modern facilities. The college VAST has been established by Vidya International Charitable Trust (VICT) in 2003 and located in Kurumal near Kechery, Thrissur district. The trustees are financially strong entrepreneurs with higher educational views has committed to establish and develop the institute as the world class education centre. The trustees has develop the college under the mission of empowering propel education in backward region of Kerala. Over these years Vidya has become successful institute in molding high quality engineers to the world. Their high standard in academic facilities helps them to earn ISO 9001-2008 certification and also to reach the position of best engineering college in Kerala in short span of time. Vidya academy of science and Technology has been approving by All India counsel for technical education and also affiliated to one of the fame university in India Calicut University. Vast has holistic approach to education and take attention on developing the graduates in the area of body, mind and soul features additional to academic studies. The college has always been successes in recognizing right people by providing scholarship in their study. The management has built different scheme for this helpful project and they have some scholarship plans which will deduct full fees.


Campus of Vidya academy of science and Technology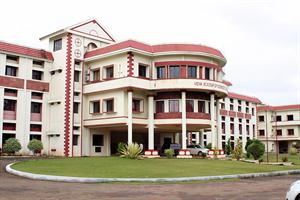 Vidya academy has established in the year of 2003 in a small village Kaiparambu Thrissur. The college is spread over 30 acres of land in a naturally blended beauty place. The college has got serene atmosphere which is apart from the urbanity busy life and free from the nuisance of vehicle's travel. The main College building has divided into three blocks namely main block, south and north block containing more than 23000 square meters built up area. This will furnishes class rooms, tutorial rooms, drawing halls, computer laboratory, administration office, department office, and staffroom etc. The college has got vast ground which can hospital football and cricket tournament. The management has also built a good basket ball court and these facilities have brought number of university sports meet into this college.


Admission procedure and course offered in VAST

Vidya academy of science and technology has provided courses in under graduate and post graduate schemes. In under graduate program B-tech which consists of following six courses with an intake of 60 students in each course except ECE and ME, both have intake of 120 students.1) Production engineering 2) Civil engineering 3) Computer science and engineering 4) Electronics and communication engineering 5) Electrical and electronics engineering 6) Mechanical engineering. In post graduate program M- tech which consists of following two courses with intake of 30 students 1) Power electronics 2) Computer science and engineering also MCA course with intake of 60 students.

The college has strictly follow merit system in admission. Admission for undergraduate program has governed by the direction of entrance commissioner, Government of Kerala. The College has permits 50 percentage of student under Government merit and 50 % percentage of student under management which will also consist of NRI seats. Candidates who secure 50 % mark separately in mathematics and 50% marks in mathematics, physics, chemistry and biology/computer science are put together can apply for the admission from VAST. Student should secure rank in Kerala entrance exam for eligibility in apply b-tech course in merit and management scheme. For NRI seat it is not necessary to place in entrance rank list. Students who have done diploma course can apply for b- tech course in the college after pass in lateral entry test by concerned authority. Students who secure more than 55% mark in bachelor degree from any AICTE approved institution with valid gate score are eligible for the admission in M-tech and for MCA student has to secure bachelor degree from any discipline of 3 years with mathematics and secure rank conducted by the entrance commission of Kerala.


Infrastructure facilities of Vidya academy of science and Technology

Vidya has maintained high quality in providing infrastructure facilities of college, which consists of Library, Canteen, hostel facilities, labs, Transportation etc. They have successes in the area of providing full function for the student to enhance their skill and knowledge. Following part has discussed more about infrastructural facilities of Vidya academy of science and Technology.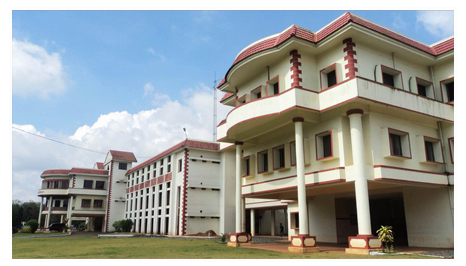 Library:
Vidya academy of science and technology has a collection of more than 16000 books in various engineering trades from Indian and foreign authors. This large volume collection will help the students of this institute to enhance more knowledge about topics. Reference library has functioning from 9.00 am to 7.00 pm in week days. The library has also provided Photostat facility for students with minimal rate of 50 paisa per paper. The college has used bar code system for circulation of books among students.

Canteen:
Vidya engineering college has canteen with intake capacity of 150 people at a time. The canteen has consists of both vegetarian and non vegetarian food. Canteen is made at the intention for the hostlers, anyhow there is a store attached to canteen for others. There available only light food, even though it was quite good. There is a small hotel available outside the college and most of daily scholars are depends on that hotel for lunch and other.

Hostel:
Vidya college management has provided well furnished hotel facilities for students. There are separate hotels are available for both boys and girls in this college. Students can avail TV, games, telephone, reading and internet facilities from the college. College management is well care about the security and provided fulltime security for hostels.

Labs:
Vidya College has provided well equipped lab facilities for the students to enhance their skill in practical knowledge. College has consisted of computer labs which have collection of more than 500 computers with latest configuration of windows and Linux. College has multiple dedicated leased line access with internet bandwidth of 4mbps also well equipped and high functional lab for various branches is available in the college. One of the feature of this college is well qualified trainees who taken the practical class, so that students can able to clear the doubt at a time. The college has provided all the help for the students to mold new inventions in science by utilizing the facilities available in college.

Transportation:
The college has provided number of vehicles for the students as to increase the transportation facilities. Not only students but also teachers can utilize this opportunity for travel with less cost. The destinations long distance like Vadanappilly, Iringalakkuda, Kodakara, Kunnamkulam, etc and to all suburban areas of Thrissur. Students can also reach college through line buses. But there is a draw back; students have to walk approximately 1Km from the boarding point of bus stop to reach college.
Training and placement cell in Vidya engineering college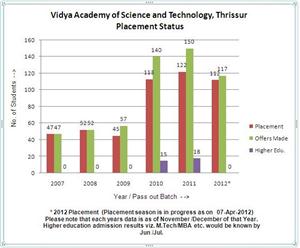 At Vidya engineering college lot of emphasis are arranged to make students overall development. During second and third year two periods of each week are exclusively devoted for activities covering self development of students. This will include spoken and written language skills, aptitude building skill both theoretical and practical sessions, soft skill development help to develop attitude towards communication and facing interviews etc, campus connection programs and motivational talks by industry experts. Vidya College has tie-up with giant industrial establishment including Infosys, TCS, IBM, and Wipro technologies. Lots of students are undertaken placement from Vidya College and work in the giant IT and other establishment.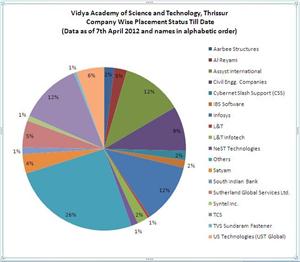 Discipline and anti ragging squad in Vidya college of Engineering

Vidya College has take attentive care in maintaining well discipline in college. The student must wear uniform to enter in the college also use of mobile phone is strictly prohibited inside the campus. A ragging cell is formed to discourage the students from this kind of activity. If any such activities are noticed students are punished with out any warning and case has changed over to Police. The college is function from Monday to Friday. There will not be regular classes on Saturdays. The normal working time of the college is from 9.00 am to 4.30 pm with a lunch break of 1 Hr. From 12.45 pm to 1.45 pm on Fridays lunch break will be from 12.30 pm to 2.00 pm. Morning interval is start at 10.50 am to 11.00 am.


How to contact Vidya academy of science and technology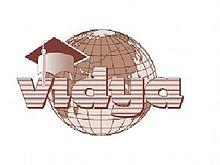 For taking admission from Vidya engineering college you can use following details.

Phone: +91-4885-287751 / 287752
Fax: +91-4885-288366
Address: Kurumal,Thalakottukara P.O., Near Kaiparambu, Thrissur - 680501, Kerala, India
Website: http://www.vidyaacademy.ac.in
Email: principal@vidyaacademy.ac.in