Sree Sankaracharya University of Sanskrit (SSUS) Kalady, Kerala

Sree Sankaracharya University of Sanskrit(SSUS)Kalady, Kerala is one of the best Sanskrit universities in India. The aim of this university is to provide higher education in Sanskrit, Indian philosophy. It is located at kalady, Kerala. SSUS conducts various Graduates and post graduate courses in Sanskrit, music, dance and other Indian languages. SSUS is functioning through 9 centers across Kerala.


About Sree Sankaracharya University of Sanskrit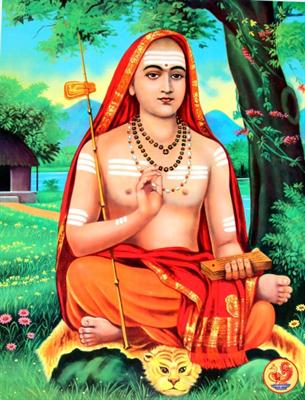 India is a country having large number of universities; which includes technical universities, Arts & Science universities, Language Universities, Nationalized universities, Private universities etc. Most of the universities in India were established after 1950. At the time of independence, our country was quite backward in the field of education, but after that large number of universities was established in our country. Most of the universities in India aims to provide higher education in either technical or commerce field. There are only few universities in India are aims to impart knowledge in various fields of Sanskrit, Indology, Indian Culture, Indian Languages, Indian Philosophy. In that category one of the most prestigious Sanskrit university "Sree Sankaracharya University of Sanskrit" (SSUS) is situated in god's own country Kerala. The University, named after the illustrious sage and philosopher Sree Sankaracharya, was established in the year 1993 in Kalady, on the banks of the river Poorna.The University is now taking good efforts for the Publication and preservation of various Indian cultural books like, manuscripts and other books in Sanskrit. The students from various states of our country are taking admissions in this university in order to learn more about the Indian tradition, art and culture. Today this university offers so many course in Sanskrit, Music, Dance, Arts, Hindi,etc.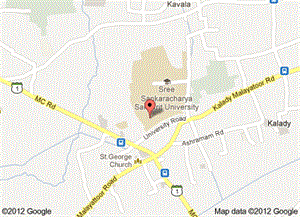 The main objectives of Sanskrit university


The main objective of this university is to provide a higher level education in Sanskrit, Indology, Indian Philosophy and Indian languages.

SSUS aims to encourage classical dances, Drama, painting according to our tradition.

Another objective of the SSUS is to translate various Vedas, Puranas and Upanishads to Malayalam language.

T establish a computerized data base of published Sanskrit works and ongoing research works.

SSUS Plans to introduce various courses in Pharmacology (Medicinal Plants) to maintain the country's tradition of healing sciences.

The main highlights of SSUS


It is the only university in our country that provides post courses in VEDIC studies. It conducts various regulars programs for deep researches in Vedic Tradition, arts and culture with 100 hour audios- video documentations of Koodiyattam.

SSUS offers variety of courses in addition to Sanskrit studies. It provides an opportunity for specialized academic programs in different classical dances forms like, Mohiniyattam, Bharathanattyam, along with Sanskrit as a core subject etc.

Various certified courses on world languages like Prakrit Pali, Arabic, Hebrew, Gurumukhi, Telugu, and Tamil.

Academic system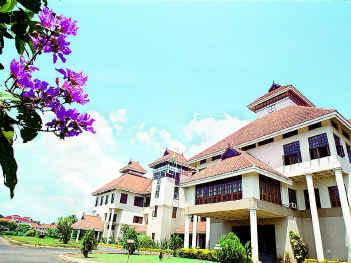 The university has a large campus to conduct various courses and programs. Sree Sankaracharya University of Sanskrit is functioning through nine regional Centres. The Kalady campus is the main centre of SSUS. Other eight centers of SSUS are,Thiruvananthapuram, Panmana, Thuravoor, Ettumanoor, Thrissur, Tirur, Koyilandy and Payyannur. The Kerala Kalamandalam, internationally acclaimed for Kerala Classical Arts, has recently been added to the University as a recognized institution. The university provides higher education in many subjects along with Sanskrit as main topic. The University has a Central Library in the Main Campus at Kalady with large collection of ancient and modern books. The majority of the books in library are comes under Sanskrit and social science category. The library consists of more than 55000 books and 350 Manuscripts. The library functions from 8.30 AM to 6.30 PM with membership open to all students.

Some Graduate and post Graduate courses under SSUS are,



B.A Sanskrit core

B.A music,Dance

M.A. Sanskrit Sahitya

M.A. Sanskrit Vyakarana

M.A. Hindi

M.A. History

M.A. Philosophy

M.A. Sanskrit Nyaya , Sanskrit Vedanta

M.A. English

M.A. Music

M.A. Dance (Bharathanattyam, Mohiniyattam)

M.A. Psychology

M.A. Vedic Studies

M.A. Sanskrit General

MSW

M.Phil Programmes

PH.D Programmes

Integrated M.Phil/Ph.D



Eligibility criteria
For getting admission to post Graduate courses, applicant should be Graduate in any discipline from a recognized university. The regular final year degree students are also eligible to apply. For MA dance, Bachelor's degree in the relevant subject is necessary. The maximum age-limit for postgraduate admission is fixed as 28 years. All eligible applicants will be called for an entrance examination and interview. The entrance exam centers will include all the varsity's regional centers and main centre.


Contact information

Sree Sankaracharya University of Sanskrit
Kalady, Kerala – 683 574, India
Tel: +91 484 2463480, 2463380
Email:ssus@vsnl.com
Website:www.ssus.ac.in