Kerala Strikers vs Mumbai Heroes Highlights CCL 2013

Kerala Strikers vs Mumbai Heroes match highlights of CCL 2013 is given here. Chasing a target of 136 runs in stipulated 20 overs, Kerala Strikers managed to cross the target in 19.1 overs with 3 wickets in hand. For Kerala Strikers Sumesh scored 34 runs while Vivek Gopan remained unbeaten on 29 runs.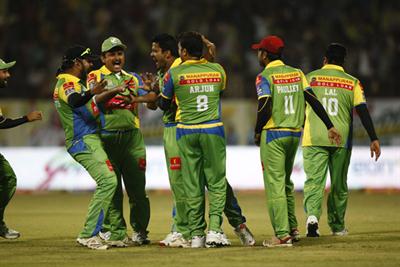 The 2nd match of Celebrity Cricket League(CCL) 2013 between Kerala Strikers vs Mumbai Heroes was as close as watching a thriller. Keeping the excitement onto the nerves, Kerala Strikers led by superstar Mohanlal thrashed Mumbai Heroes by 3 wickets to register their first victory in CCL 2013. Chasing a target of 136 runs in stipulated 20 overs, Kerala Strikers managed to cross the target in 19.1 overs with 3 wickets in hand. It was the majestic performances of Sumesh and Vivek Gopan scoring 34 and 29 runs respectively which helped the Kerala team to thrash their opponents.

After winning the toss, Mumbai Heroes decide to bat first with V. Badola and Sunny Singh opening for the team. Badola went very cheaply to Manikuttan after scoring 1 runs. It was R Belwani next to go after contributing 9 runs. Later Sunny Singh and Aftab Shivadasani managed to build up a comfortable score of 135 runs in stipulated 20 overs. Sunny Singh who was the top scorer for the Mumbai Heroes rose up to expectations making 45 runs. Sunny Singh (22) and A Shivdasani (23) added 50 in 35 balls for the Mumbai Heroes during the 3rd wicket partnership. Aftab made a decent 36 runs before he was bowled out by Santhosh Sleeba.



Job oriented Digital Marketing Courses in Kerala.
Call +91 8138875600 for details



136 runs to be scored in 20 overs was not a much challenge for Kerala Strikers having great players like Rajeev Pillai, Vivek Gopan etc. It was Nivin Pauly and Rajeev Pillai who opened the batting for Kerala Strikers started with ease contributing 33 runs in 5 overs. Playing a loose stroke Nivin was caught by S Ahluwalia on the bowling of Badola. Wickets fall at regular intervals with Kerala Strikers kept all hopes on Sumesh who had cricket in his veins. He pulled out the balls outside the ropes for 3 huge sixes contributing a valuable 34 runs before caught by Bhelwani on the bowling of Sunny Singh. The stadium went silence for a moment when Arjun Nandakumar was run out after making 18 runs.

The last five overs was much crucial for the Kerala Strikers with 3 wickets in hands and 40 runs to be scored. Vivek Gopan and Bineesh Kodiyeri played a cool innings till the end of the match. With 6 runs to be needed for 6 balls, Vivek Gopan stuck the ball to the long boundary for a six which gave a thrilling moment for the Kerala Strikers team members and fan followers. Vivek remained unbeaten on 29 while Bineesh too supported the team adding valuable 10 runs.

Kerala Strikers will take on Bhojpuri Dabanggs on 16th February played at Hyderabad.


Kerala Strikers vs Mumbai Heroes Highlights

Toss: Mumbai Heroes won the toss and decided to bat
Mumbai Heroes: Sunny Singh – 45 runs
Mumbai Heroes Total: 135/5 in 20 overs
Kerala Strikers: Sumesh – 34 runs
Kerala Strikers Total: 136/7 in 19.1 overs
Result:Kerala Strikers won by 3 wickets