Artist: Fahadh Fazil as a visually challenged painter

Artist malayalam movie directed by Shyamaprasad will have Fahadh Fazil and Ann Augustine playing the lead roles. It is known that Fahadh who is well known for doing experimental characters would be donning yet another memorable role, a visually challenged painter.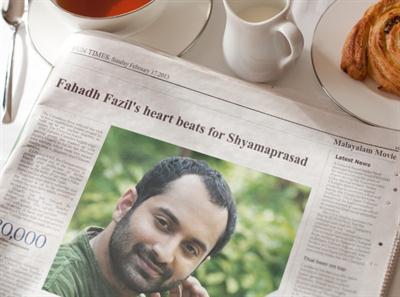 Young hero Fahadh Fazil is shuttling from location to location for being committed for a number of movies in 2013. Being an actor who likes to create a space of his own has done admirable roles in Annayum Rasoolum and Natholi Oru Cheriya Meenalla getting appreciations from movie lovers.
With a handful of movies already in kitty, Fahadh has landed in a dream project helmed by Shyamaprasad. The director known for his unique way of handling each movie has roped Fahadh to play the lead role in his upcoming venture titled as 'Artist'.

The theme of the movie is centered on the life of a visually challenged painter donned by Fahadh. This character role would be a real challenge for the actor who is known for his experimentation in each film commited by him.

Ann Augustine will share screen space with Fahadh as his wife. Really excited to work with Shyamaprasad, Fahadh did had kept a good rapport with the director before entering into the limelight of entertainment. It would be dream come true for the actor who cherished to work with the legendary director.

Playing the role of a blind man seems to be a testing moment for Fahadh who has to make himself travel through emotions, romance and much more. Ann Augustine who pairs him too has to come across various situations coping up with a movie which focus on complicated relationship. Highly ambitious about the movie, Fahadh hopes to play yet another memorable role which can stand out in his career.

Shayamaprasad would be handling the story, script and screenplay other than the direction. The shooting of the movie will start soon in Thiruvanathapuram. Hope that the 'Artist' will not be a conventional movie and would have elements of emotions which the viewers can carry in their heart. Shayamaprasad's upcoming flick 'English' which is ready for release tells the tale of the life of Malayalees settled in London.