Vallatha Pahayan: Galaxy Films brings 'Marimayam' team on silver screen

Vallatha Pahayan malayalam movie directed by Niyaz Becker and Rasak Mohammed will feature 'Marimayam' team on big screen. After Rachana Narayanankutty making her silver screen presence through 'Lucky Stars' paring with Jayaram, the complete cast of the popular TV program including Manikantan Pattambi, Vinod Kovoor, Niyaz Becker, Sreekumar and Sneha Sreekumar will be seen in 'Vallatha Pahayan'.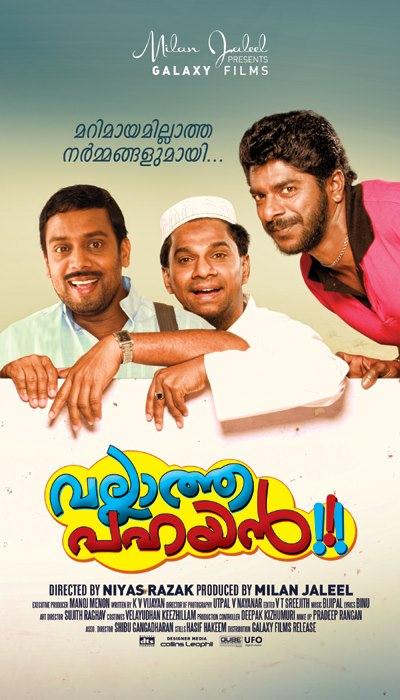 Do you wish to watch the whole team of the family satire show 'Marimayam' on silver screen? Wait for a couple of months as the kings of humor are gearing up to entertain the audience with power packed comedy.

Being telecast in Mazhavil Manorama, 'Marimayam' is an extraordinary show which keeps entertaining the viewers with their majestic presentation. After getting high regard from the spectators, now it's time for the entire team to perform on big screen.

Titled as 'Vallatha Pahayan', the movie is being produced by Milan Jaleel under Galaxy Films banner. Niyas Baker who dons a prominent role in the series would make an entry as director along with Rasak Mohammed. Written by Vijayan, 'Vallatha Pahayan' revolves around Balan, a normal Keralaite who struggles in and around the city dreaming to reach heights beyond his reach.

It movie focus upon his acts and brawls engaged with the untidy beaurocracy. Television audience who are much familiar with the series of episodes performed by the "Marimayam" team would get a chance to watch full length comedy on silver screen.

Rachana Narayanankutty, the soul of "Marimayam" has already crept as heroine in 'Luck Star', an upcoming movie sharing screen space with Jayaram. Other than Rachana, the cast of 'Vallatha Pahayan' include Marimayam stars Manikandan Pattambi, Niyas Backer, Vinod Kovoor, Sreekumar and Sneha Sreekumar supporter by Janardhanan, Mamukoya, Sadiq, Irshad, Kalabhavan Haneef, Mala Aravindan, Kochupreman,Narayanan kutty, Indrans, Jaffer Idukki, Sunil Sugatha ,KPAC Lalitha, Kulappulli Leela and Subi Suresh.

Young musician Bijibal will be shouldering the obligation of tuning the songs which can soothe ears combined with alluring visuals. The pooja function was held recently and the shooting of the movie would start on 22nd February. Blessed with the presence of Cinematographer Utpal V Nayanar, the camera will be zoomed to various angles bringing the best onto frame. Manoj Menon dons the role of executive producer while Sujith Raghav would keep the locations alive with his unique artistic skill.

The editing of the movie will be safe in the hands of Sreejith VT. Pradeep Rangan known for doing wonders on skin will be the Make Up man for the movie. Shibu Gangadharan, the associate director would move around the location providing support in the film making. Vallatha Pahayan would have a grand release set for the first week of May 2013.