Vedivazhipadu: Arun Kumar Aravind and Murali Gopy turns producers

Vedivazhipadu malayalam movie will be the production debut of director Arun Kumar Aravind and actor Murali Gopy. Written and directed by debutant Shambu Lekshmi Purushothaman, the theme of the movie is focused on the friendship between few people which disentangle during an Attukal Ponglala. Murali, Indrajith, Saiju Kurup, Jojo, Mythili, Anumol and Anusree will be seen in lead role.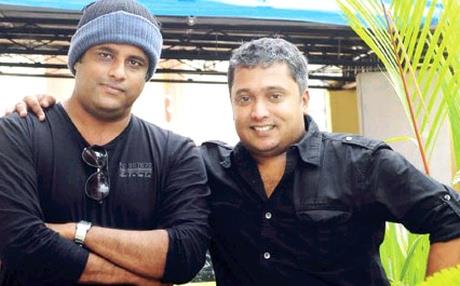 After working together for Adutha Kaalathu and Left Right Left, the lucky combination of Arun Kumar Aravind and Murali Gopi is gearing up for yet another project. This time the duo would wear the outfit of producers. Arun's directorial debut 'Adutha Kaalathu' was a box office hit, a movie portrayed a theme which was unusual the audience.

'Vedivazhipadu' produced under the banner 'Karmayug Movies will be helmed by Shambu Lekshmi Purushothaman who will initiate the screen play and direction.

After the grand success of Adutha Kaaalathu, both Arun Kumar Aravind and Murali Gopy received a bunch of opportunities but they were comfortable with 'Left Right Left' while the shooting of the movie will get wrapped up soon. Shambu Lekshmi Purushothaman who had completed his graduation from Satyajit Ray Film and Television Institute, Kolkata is pleased to make his directorial debut with a wonderful story which speaks about male bonding i.e, friendship between men. Heard from the grapevine, Rima Kallingal has been roped as the heroine of the movie.

This fun filled movie travels through the pace when the camaraderie loosens during an Attukal Pongala. 'Vedivazhipadu' will feature Murali, Indrajith, Saiju Kurup, Jojo, Mythili, Anumol and Anusree in the lead roles. The movie which will start rolling in May will have a final cut and would reach theatres as an Onam feast.

Murali Gopy and Arun Kumar Aravind are the new success combination in malayalam movie industry. Ee Adutha Kaalathu was the movie which had showed the off screen chemistry of the duo who loved to work again for 'Left Right Left' which would hit the big screen soon. More than an actor, Murali is known as a screen writer who had moved his pen for Rasikan, Ee Adutha Kaalathu and Left Right Left. He would keep his pen live for Rajesh Pillai's Mohanlal starrer Lucifer.