22 Female Kottayam remake in Hindi, Tamil, Kannada and Telugu under work

22 Female Kottayam malayalam movie will have remakes in Hindi, Tamil, Kannada and Telugu. Ashiq Abu's 2012 blockbuster would speak Tamil, Telugu and Hindi after Rajkumar, yesteryear actor-turned-producer had bought its exclusive rights. Sreepriya, Rajkumar's wife would direct the entire three versions after getting impressed with the subject which focused on revenge of women.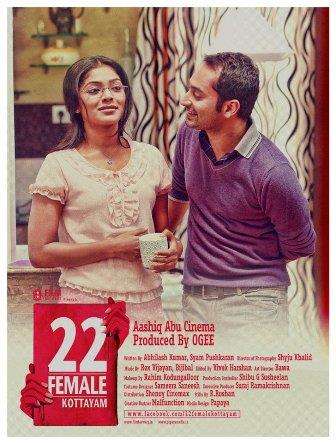 '22 Female Kottayam', the bold and beautiful movie from the hands of Ashiq Abu would soon speak Hindi, Tamil and Telugu. The 2012 movie which was well received at the box office has been well noted by Raj Kumar and Sreepriya, who has bought the right to remake the movie in 3 languages.

Raj Kumar, yesteryear actor-turned-producer and his wife Sreepriya, yesteryear actor would rework with the script to match the interest of the audience. Impressed with the subject, Sreepriya who had acted in around 300 films will don the direction which she had been doing carefully in Tamil.

Raj Kumar and Sreepriya are looking forward for an actress familiar for all the three industries to get casted in all the three versions. The greatest challenge would be the lead hero as Fahadh Faasil who had given 100% justice to his role in the original version. So there might be different heroes in each film with a Bollywood actor to be roped to play the lead in the Hindi version.

The theme of the movie will be having much relevance after Delhi rape incident rocked the globe. A number of movies are under planning a couple in malayalam and hindi too. It is also known that Bengali film maker Agnidev Chatterjee has already started the shooting of his new movie titled 'A Political Murder' with Rituparna Sengupta in the lead which focus on the protests occurred nationwide after the incident.

With the country still face more similar unpleasant incidents, the theme of 22 Female Kottayam do have much relevance as it proved to be a movie which gave motivation for women to fight against injustice and sexual harassment.

Another offering would be its Kannada version produced by O G Sunil, the producer of 22 Female Kottayam. It is known that the project would be helmed by a leading malayalam director.