Lasagu Usaga: Padmasoorya Govind gearing up to lead the show

What is the meaning of the word Lasagu Usaga? If still confused, Lasagu Usaga malayalam movie directed by debutants Kicchu and Jose will give answer to the question. Padmasoorya Govind will be the lead actor who had shown his mettle on screen with A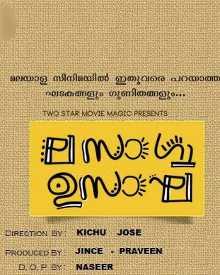 It is quite interesting to go through the titles of malayalam movies which sometime tests the inner sense of the readers. Adding one to the list of wacky titles, 'Lasagu Usaga'would stand tall among the new names. What is actually Lasagu Usaga? Is it an African phrase or a tribal word?

You need not have to spend time checking the urban dictionary as the title is an abbreviation of the math terms in Malayalam which you might have studied during school days. Lasagu Usaga stands for Laguthama sadharna gunigam, Uthama sadharna gadagam or Least Common Multiple (LCF) and Highest Common Factor (HCF). It is a commonly used term, but known only for those who have studied in malayalam medium.

As the title suggests, Lasagu Usaga' deals with how people are much calculative in life. But the calculations might go right or wrong which can bring a drastic in their family. Through this movie, debutants Kicchu and Jose try to focus on some of the socially relevant issues coupled with a true love story. This movie would start rolling from mid April while the rest of the casting is still under progress.

Young actor Padmasoorya, who made his acting debut with Atayalangal, had later lent his face for IG, Bhoomi Malayalam, Daddy Cool and College Days. Atayalangal directed by M. G. Sasi and produced by Aravind Venugopal was based on the life and literature of Nandanar. The movie which had won five Kerala State Film Award including Best Film, proved to be a stepping stone in the acting carrer of Padmasoorya. He was later seen in IG as the Vinu, the brother of Suresh Gopi.

His character as as Sreekanth, an Indian cricketer in Daddy Cool was noticed which gave him a handful of opportunities. T. V. Chandran's Bhoomi Malayalam was the next to be followed. His roles in College Days and Natholi Oru Cheriya Meenalla were much noted. 72 Model and 8 1/4 second (Ettekaal Second) are his next in queue waiting for release.